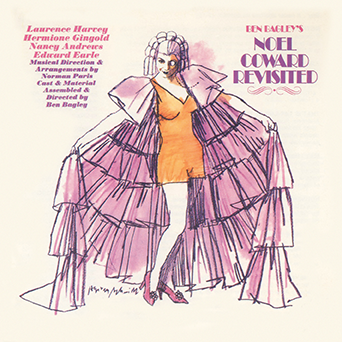 Kritzerland is proud to present the next two releases in our ongoing series of Ben Bagley reissues:

NOEL COWARD REVISITED

Music and Lyrics by Noel Coward

This is one of the best Ben Bagley Revisiteds, the witty, tuneful, urbane, naughty, saucy songs of Noel Coward. While there are wonderful rarities here, you also get a couple of the hits, too. And as with George Gershwin Revisited, Noel Coward Revisited has a small cast, but again, a stellar one, including Laurence Harvey, Hermione Gingold, Nancy Andrews, Edward Earle, and singing "If Love Were All," the one and only Dorothy Loudon. The musical direction and arrangements are once again by Norman Paris, and this album does include some great bonus tracks.

As always, we've really spruced up the sound, and we of course give you the great Harvey Schmidt artwork.

NOEL COWARD REVISITED is limited to 500 copies only and priced at $19.98, plus shipping. This is a PRE-ORDER – CDs will ship by the second week of June, but never fear, we've actually been averaging three to five weeks early in terms of shipping ahead of the official ship date.

Also note that your PayPal receipt is the only receipt you get – we don't send out confirmations beyond that.
(Click on cover for enlarged version)

• Click on titles below to hear a song sample:

[The audio samples are not the remastered tracks.
Those will be coming soon. They're just to give you an idea of the songs and singers. We are doing major work on this, the worst-sounding of all the Bagley albums
and the remastered tracks were not available
for the announcement.]

• London at Night ~ Edward Earle
and The Satisfactions
Evening in Summer ~ Nancy Andrews
and The Satisfactions
The Wife of an Acrobat ~ Hermione Gingold
• Nothing Can Last Forever ~ Laurence Harvey
Green Carnations Edward ~ Earle
and The Satisfactions
That Is the End of the News ~ Hermione Gingold, Nancy Andrews
May I Have the Pleasure/The Waltz ~
Laurence Harvey, Nancy Andrews
Housemaid's Knees ~ Hermione Gingold,
Nancy Andrews
You Were There ~ Laurence Harvey
• He Never Did That to Me ~ Hermione Gingold
• If Love Were All ~ Dorothy Loudon
Don't Let's Be Beastly to the Germans ~
Edward Earle and The Satisfactions
• Chase Me Charlie ~ Nancy Andrews
• Never Again ~ Laurence Harvey
Finale ~ The Satisfactions
Bonus Tracks
Operette ~ Myvanwy Jenn
When My Ship Comes In ~ Arthur Siegel
The Hall of Fame ~ Barbara Lea, Arthur Siegel, Myvanwy Jenn
Most of Every Day ~ Ann Hampton Callaway
Let's Live Dangerously ~ Myvanwy Jenn,
Ann Hampton Callaway, Barbara Lea, Arthur Siegel
Music and Lyrics by Noel Coward
Musical Direction and Arrangements by
Norman Paris