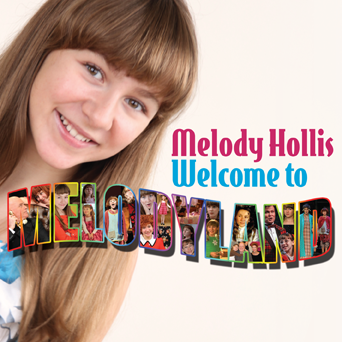 Kritzerland is proud to present a new CD release:
MELODYLAND Melody Hollis
WELCOME TO MELODYLAND
Melody Hollis is an amazingly talented thirteen-year-old who, with her cabaret act, is certainly one of the youngest (if not the youngest) performers to do a solo cabaret show. Melody appeared on Broadway in White Christmas as Susan. She has also done the title role in Annie (alongside Broadway's original Annie, Andrea McArdle as Miss Hannigan), film and television and commercials. But her heart is in musical theatre, and this CD, recorded live at Sterling's at Vitello's is filled with great songs, fun patter, and her infectious and winning personality. She socks over classic songs such as "Part Of Your World" "Hit Me With A Hot Note" "The Boy From" "Tomorrow" an amazing "Sherman Brothers Nonsense Words" medley "Let Me Sing And I'm Happy/Love, You Didn't Do Right By Me" and lesser known songs like "I Know Now" (from Snoopy! The Musical) "Born To Entertain" (from Ruthless!) "I Want To Be A Rockette" (from Kicks! The Showgirl Musical) – but it's not all brassy uptempo songs – she also surprises with some incredible ballads like "Reflection/The Girl I Mean To Be (from Mulan/The Secret Garden), "A Quiet Thing" and a very touching "Children Will Listen" and more.

Melody Hollis will have you laughing one minute and melting your heart the next. Cabaret Scenes raved "Her delight in performing was evident from the outset and her exuberant energy level carried through for the whole show – is there anything this young lady can't do?" and Broadway World said, "Hollis can not only sing, dance and patter with the best of them, but she has a certain savoir faire and wisdom that go far beyond her years. Her talent is unlimited – Brava!"
Conceived and Directed by Bruce Kimmel, with musical direction by Steve Hollis. Arrangements by John Boswell and Bruce Kimmel.
CD is priced at $17.98 plus shipping. CDs will ship the second week of December – however, never fear, preorders placed directly through Kritzerland usually ship one to five weeks earlier (we've been averaging four weeks early).