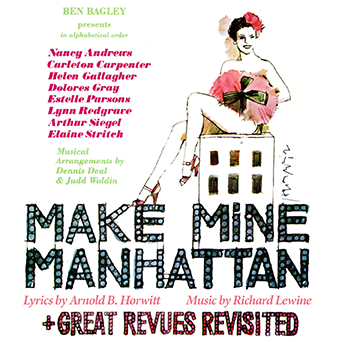 Kritzerland is proud to present the latest release in the Ben Bagley series:
MAKE MINE MANHATTAN + GREAT REVUES REVISITED
Music by Richard Lewine Lyrics by Arnold B. Horwitt
Great Revues Revisited music and lyrics by Baldwin Bergerson, Lyn Duddy, Joan Edwards, Edward Eliscu, Ted Fetter, Charles Gaynor, Jay Gorney, Alec Grahame, Bob Hilliard, Arnold B. Horwitt, Jean and Walter Kerr, Richard Lewine, Phyllis McGinley, Henry Myers, Peter Myers, John Pritchett, Harold Rome, Albert Selden, Carl Sigman
Before he Revisited, Ben Bagley created musical revues, starting with Shoestring Revue, which he produced at the ripe old age of twenty-one. Then there were other Shoestring revues, The Littlest Revue, The Decline and Fall of the Entire World as Seen Through the Eyes of Cole Porter – the revue was a world Ben loved, and he found and gave opportunities to a whole slew of songwriters who'd go on to have great success in musical theater. And so, this album was very dear to his heart, preserving the utterly delightful Make Mine Manhattan along with a slew of other revue songs in a bonus section called Great Revues Revisited.
Make Mine Manhattan opened on Broadway at the Broadhurst Theater in 1948 and was a smash hit, running 429 performances. The music by Richard Lewine is a tuneful delight and the lyrics of Arnold Horwitt are witty, smart, and frequently laugh-out-loud funny. The show was notable for introducing someone named Sid Caesar to Broadway audiences – just a short time later he'd team up with Make Mine Manhattan's sketch director, Max Liebman, in a little TV show called Your Show of Shows.
The additional songs are from a variety of other musical revues by some great songwriters. Bagley's cast for this recording is starry and wonderful and includes Nancy Andrews, Carleton Carpenter, Helen Gallagher, Dolores Gray, Estelle Parsons, Lynn Redgrave, Arthur Siegel, and Elaine Stritch. This is one of Ben's most enchanting albums and features terrific arrangements by Dennis Deal and Judd Woldin.
As we've done for all the Ben Bagley releases, we've considerably spruced up the sound. And the cover art is, of course, by the great Harvey Schmidt.
MAKE MINE MANHATTAN is limited to 500 copies only and priced at $19.98, plus shipping. This is a PRE-ORDER – CDs will ship by the first week of January, but we always strive to get it out earlier. Lately, however, the pressing plant has been slower than usual due to the pandemic.


Also note that your PayPal receipt is the only receipt you get – we don't send out confirmations beyond that.
(Click on cover for enlarged version)

• Click on titles below to hear a song sample:

MAKE MINE MANHATTAN
• Anything Can Happen in New York Entire Company
• Gentlemen Friend Helen Gallagher and Girls
• Noises in the Street Arthur Siegel, Bob DeAngelis, Dennis Deal
• My Brudder and Me Estelle Parsons and Chorus
I Fell in Love with You Nancy Grennan and SRO
The Subway Song Arthur Siegel
Phil the Fiddler Ken Parks and Girls
Schraffts Helen Gallagher
I Don't Know His Name Estelle Parsons
Saturday Night in Central Park Helen Gallagher, Arthur Siegel, and Company
Music by Richard Lewine Lyrics by Arnold B. Horwitt
Vocal and Musical Arrangements by Dennis Deal
GREAT REVUES REVISITED
Civilization Elaine Stritch
• Lend an Ear Medley
After Hours Ginger Ale
When Someone Loves You Lynn Redgrave
Molly O'Reilly Patrick Dougherty and Ginger Ale
This Had Better Be Love Nancy Andrews and Arthur Siegel
Mr. Henderson Lynn Redgrave
The Show-Off Carleton Carpenter
Take Off the Coat Dolores Gray
Miss Platt Selects Mate Nancy Andrews
Darn it Baby, That's Love Lynn Redgrave and Carleton Carpenter
• Saturday's Child Dolores Gray
I Gotta Have You Lynn Redgrave and Company
Love in a Changing World Arthur Siegel and Christine Ranck
The Good Old Days Arthur Siegel, Robert Marks, William Cantor
Home By the Sea Diane Carnevale
A Pretty Girl is Like a Pretty Girl William Cantor, Robert Marks, Arthur Siegel
Music and Lyrics by Baldwin Bergerson, Lyn Duddy, Joan Edwards,
Edward Eliscu, Ted Fetter, Charles Gaynor, Jay Gorney, Alec Grahame,
Bob Hilliard, Arnold B. Horwitt, Jean and Walter Kerr, Richard Lewine,
Phyllis McGinley, Henry Myers, Peter Myers, John Pritchett, Harold Rome,
Albert Selden, Carl Sigman,
Vocal and Musical Arrangements by Judd Woldin