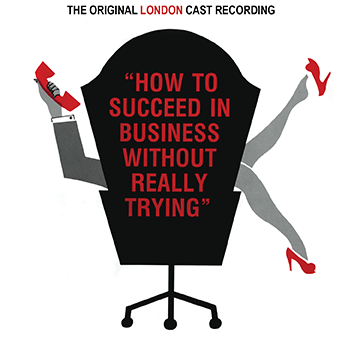 Kritzerland is proud to present the premiere CD release of the original London cast recording:

HOW TO SUCCEED IN BUSINESS WITHOUT REALLY TRYING

Music and Lyrics by Frank Loesser

The Pulitzer Prize-winning musical, How to Succeed in Business Without Really Trying, opened on Broadway at the 46th Street Theatre on October 14, 1961 and it was an instant smash, with both critics and audiences raving about everything – the book by Abe Burrows, Jack Weinstock and Willie Gilbert, the brilliant score by Loesser, the cast, led by the inimitable young Robert Morse and the older but equally inimitable Rudy Vallee, the musical staging by Bob Fosse, and Burrows' direction.

It had an amazing run of 1,417 performances and won seven Tony Awards. There was a successful national tour starring Dick Kallman.

Of course, with a smash like that it was inevitable that the show would receive a London production and so it did – that production opened at the Shaftesbury Theatre on March 28, 1963, where it had a very healthy run of 520 performances. For that production, it was an entirely new company, led by the inimitable Warren Berlinger, already a Broadwy vet by that time, and the inimitable Billy De Wolfe in the Vallee role. The London cast album was released soon after the show opened, and it is delightful. Berlinger is wonderful as Finch, and Billy De Wolfe is a fantastic Biggley, and the rest of the cast are equally fun.

If you're a fan of London cast recordings of Broadway shows, this one's a must. We've also included a nice number of bonus tracks, selections from the World Record Club knock-off of the show, with the Mike Sammes Singers, full orchestra, and that has its own delights.

The original London cast recording of How to Succeed in Business Without Really Trying is limited to 500 copies only and priced at $19.98, plus shipping. This is a PRE-ORDER – CDs will ship by the last week of October. Lately, the pressing plant has been slower than usual due to the pandemic and a shortage of the materials that actually make the CDs, and we're at the mercy of that and a slower pace at our printing facility, so please do be patient – we're working as fast as we possibly can.


Also note that your PayPal receipt is the only receipt you get – we don't send out confirmations beyond that.