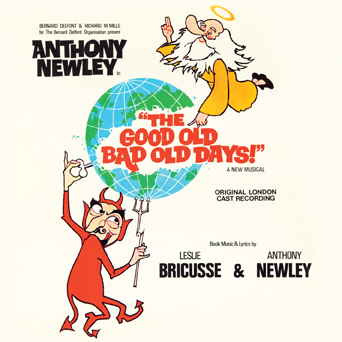 Kritzerland is proud to present a new limited edition CD release:
THE GOOD OLD BAD OLD DAYS
Original Cast Recording
Music and Lyrics by Leslie Bricusse and Anthony Newley
On July 20, 1961, a new musical opened at the Queen's Theatre in England. The musical was called Stop the World, I Want to Get Off, and was co-written, directed by, and starred Anthony Newley. The show was a smash, went to Broadway and Newley became an instant superstar. From there it was more shows (Roar of the Greasepaint, Smell of the Crowd), films, as writer, director, and actor, sometimes all three at once (Can Hieronymus Merkin Ever Forget Mercy Humppe and Find True Happiness, Willy Wonka, Doctor Dolittle), TV (tons of guest shots on every variety show of the era), and concerts all over the world.
In 1971, while on tour doing concert dates, Newley and Bricusse began work on a new original musical entitled It's a Funny Old World We Live In – But the World's Not Entirely to Blame, a musical that Bricusse described as "a modest little saga about Man, Life, Death, God and The Devil, with the history of the world thrown in." The show got as far as pre-production in New York at the end of that year. But then producer James Nederlander got cold feet and pulled out. Original Stop the World West End producer Bernard Delfont came to the rescue and the show, sporting a new title, The Good Old Bad Old Days, was slated for a short tour then a West End opening in December of 1972.
The reviews were lukewarm – some were okay, and some were blistering, however Newley the performer was well received by almost all the reviewers. The show would hang on for nine months. Being a Newley and Bricusse score, of course it abounds with catchy melodies and some genuinely good songs. Listening to the score forty years later, divorced from the show itself, the score is very pleasing to hear, and the performances are wonderful.
The Good Old Bad Old Days was released on LP on EMI in the UK. This is its first CD release.
This release is limited to 1000 copies only. The price is $19.98 plus shipping.
CD will ship by the first week of May – however, preorders placed directly through Kritzerland usually ship one to five weeks earlier (we've been averaging four weeks early).