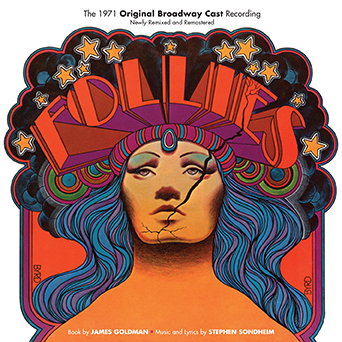 Kritzerland is happy to announce a second edition for the critically acclaimed newly remixed cast album for:
FOLLIES
The 1971 Original Broadway Cast Recording
NEWLY REMIXED AND REMASTERED!
Music and Lyrics by Stephen Sondheim
For only the second time in Kritzerland history, we're doing a second edition of one of our limited edition CDs (the first was for Promises, Promises). The reaction to this newly mixed version of Follies has been overwhelming, and the original first edition of 1500 copies was gone by the time word had spread and reviews had appeared. Stephen Sondheim called the new mix "a miracle" and that's been pretty much the reaction from everyone, including original co-director and producer Harold Prince, cast members John McMartin (the original Ben) and Harvey Evans (the original Young Buddy), Ted Chapin (the author of Everything Was Possible, the book about the creation of Follies), and logo creator David Edward Byrd. At the request of Mr. Sondheim, we are issuing this one-time only second edition so that it will be available for those who either hadn't heard about it or were too slow ordering.
What more can be said about Follies and its original legendary production? It was stunning, brilliant, shattering, with every element of the show working in perfect harmony, from James Goldman's caustic, funny, and brutal book, to Stephen Sondheim's amazing score, filled with heartbreak, remorse, humor, and pastiche that's so much more than pastiche, to the complex and remarkable direction of Harold Prince and Michael Bennett and the astonishing choreography of Bennett, to the spectacular costumes of Florence Klotz, the evocative lighting by Tharon Musser, and the beyond-perfect set of Boris Aronson. Everybody was at the top of their game and the result was, for many, the greatest musical theater experience of their lives.
The cast album for Follies has always been a love/hate relationship for fans of the show, thanks to the decision not to make it a two LP set, which caused certain songs to be truncated and others not to be recorded at all. But what it did have made it something that, despite the frustrations, meant it would never be bettered – the original cast. No, it didn't sound all that good (it was, like most cast albums back then, recorded in one day and mixed in one day and in the stores a week later), but those performances, especially from Alexis Smith, Dorothy Collins, Gene Nelson, and John McMartin were, for many, definitive. Since then, there have been several other recordings, all of them quite different, and all much more complete than the original – the London version (with some new songs, and some songs gone), Follies in Concert, the Papermill Playhouse version, and the most recent revival – all have their strengths and joys, all have lots more music, and none are the original.
The mix on the original album was odd, with vocals being occasionally overpowered by a suddenly blaring orchestra, or vocals hard-panned left and right (that's okay for one line, but to hear an entire solo hard-panned to the left or right is just really strange). Having had great luck with doing new remixes for the cast albums of Promises, Promises and Sugar, we decided to see if Follies' original session masters were available to us. Happily they were – the original edited eight-track session masters were in perfect condition. Those were transferred into Pro Tools and each song was lovingly remixed from scratch. Gone was the raggedness, and the clarity was astounding, with orchestral and vocal details all sounding crisp and clear, with fantastic depth. While there were no additional takes or material (the songs were shortened or edited prior to recording), we're hoping that the new mix is reason enough to have this CD. Doing a new mix was basically just a new way of looking at a favorite score and we truly hope that everyone is happy with what we've been able to do. It was done out of love and care, to give a new sheen and sparkle to one of the greatest theater scores ever written. Includes a twelve-page, full-color booklet.
This second edition is limited to 1000 copies only, and is so noted on the back of the packaging. The price is $19.98 plus shipping.
CDs are in stock and ready to ship.