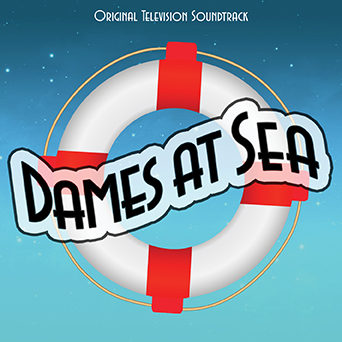 Kritzerland is proud to present two fun TV musicals on one CD:

DAMES AT SEA
Original TV Soundtrack

Music by Jim Wise
Lyrics by George Haimsohn and Robin Miller

Starring Ann-Margret, Ann Miller, Harvey Evans, Anne Meara, Fred Gwynne, and Dick Shawn

and

I'M A FAN
Original TV Musical Special – Demo Recording

Music by LeRoy Holmes
Lyrics by Carolyn Leigh

Featuring the LeRoy Holmes Singers

Dames At Sea, after a small Off-Off-Broadway production, opened Off-Broadway at the Bouwerie on December 20, 1968 and was so successful that just a few months later it moved to the larger Theatre de Lys. Audiences and critics fell in love with Bernadette Peters and loved the little pastiche of a show. In 1971, a television adaptation was done, becoming an all-star TV event spectacular on the Bell System Family Theatre on NBC. Airing on November 15, 1971 the cast featured Ann-Margret, Ann Miller, Anne Meara, Harvey Evans, Fred Gwynne, and Dick Shawn. They also added a full chorus of dancers doing full production numbers, thereby turning the TV version into the type of thing the show was spoofing. The TV version was produced by Joseph Cates and Martin Charnin, directed by Walter Miller and Charnin, and choreographed by Alan Johnson. Elliot Lawrence handled the musical direction and bigger arrangements.

The cast delivers delightful and fun performances. Ann-Margret is bubbly, Harvey Evans is charming, Ann Miller taps those feet like nobody's business, and Fred Gwynne and Dick Shawn are clearly having a grand old time. The bigger band sounds great and as these TV versions of musicals go, especially those cut down to one hour, it's a whole lot of fun.

This is the first CD release of the TV soundtrack, issued only heretofore as a promotional LP in mono. We had a mono tape of it, which is what was used for this CD.

I'm A Fan was a frothy look at sports and sports fans that starred Dick Van Dyke, Carol Channing, Rod Barry, MacIntyre Dixon, Lu Leonard, Brandon Maggart, Donna McKechnie, Karen Morrow, and Mary Louise Wilson. The music was by LeRoy Holmes, a man primarily known as an arranger/conductor on many 1950s and 1960s LPs. The lyrics were by the brilliant Carolyn Leigh (Wildcat, Little Me, "Witchcraft"). The writer was Bob Ellison, the choreographer was Bob Herget, and the director was Clark Jones. No one seems to remember much about it, but the songs are fun, especially Ms. Leigh's lyrics, which are, as always, smart and funny and clever. LeRoy Holmes' melodies are quite catchy.

While no actual TV soundtrack was released, there was a demo recording of all the songs, sung by a chorus and soloists. There can't really be enough Carolyn Leigh in the world, so we hope everyone will enjoy this bonus curio.

DAMES AT SEA/I'M A FAN is limited to 500 copies only and priced at $19.98, plus shipping. CDs will ship by the third week of June, but never fear, we've actually been averaging three to five weeks early in terms of shipping ahead of the official ship date.

ATTENTION INDIEGOGO CONTRIBUTORS: IF YOU WISH TO RECEIVE THIS RELEASE YOU MUST OPT-IN BY SENDING US AN E-MAIL – SEND TO kritzerland@gmail.com. IF YOU DO NOT WISH TO RECEIVE IT, YOU DON"T NEED TO DO ANYTHING. IF YOU ARE NOT AN INDIEGOGO CONTRIBUTOR, ORDER AS YOU NORMALLY WOULD. THANK YOU.