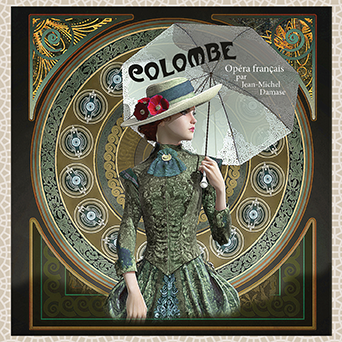 Kritzerland is proud to present the world premiere 2-CD release of a wonderful opera:
COLOMBE
Music and Libretto Adaptation by Jean-Michel Damase
from the play Madame Colombe by Jean Anouilh
and his ballet PIÈGE DE LUMIÈRE
Jean-Michel Damase was a wonderful French composer, who wrote incredibly tuneful and accessible music. He won his first prize for composing in 1947, the Grand Prix de Rome when he was nineteen. Over the years he wrote much classical music – a symphony, various concertos, a lot of chamber music and several operas. In addition to all that, he also sporadically wrote for film and television, including several French films, the 1962 British film, Term of Trial, directed by Peter Glenville and starring Laurence Olivier. His first ballet score, La Croqueuse da diamants was written for Roland Petit, which was later filmed for the 1960 omnibus ballet film, Black Tights, and that music was featured on the film's soundtrack release.
His opera, Colombe, a lyric comedy based on the play Madame Colombe by Jean Anouilh was written in 1961. It premiered at the Opera de Marseille in May of that year. The Anouilh play had come to Broadway in 1954, and despite its rather starry cast, including Edna Best, Julie Harris, Sam Jaffe, Eli Wallach, Nehemiah Persoff and William Windom, it played only 61 performances. It also had a broadcast in 1960 on the BBC, where it starred Dorothy Tutin and a rising young actor, Sean Connery. This review of that broadcast lays out the plot of the play.
Damase found the play a perfect subject for opera, with its larger-than-life characters, backstage setting, and the Belle Epoque period, which enabled him to not only write character music, but also opera pastiches. With Anouilh's blessing, Damase, who adapted the play for his libretto, made cuts to the story, streamlined everything, and emphasized the lyrical aspects of the story. His music is tuneful, beautiful, fun, and his opera pastiches are very clever. As much musical theatre as opera, it's a delight from start to finish. It is, of course, sung in French. The booklet contains a detailed synopsis of the story.
The companion piece is Damase's ballet, Piège de Lumière, which was written in 1952 and premiered at the Grand Ballet du Marquis de Cuevas in Paris. The ballet had its New York City Ballet premiere in October of 1964, where it received a rave review from The New York Times.
This CD is taken from reel-to-reel tapes of a radio broadcast in Paris that occurred on October 6, 1967. The sound is surprisingly excellent, and our mastering engineer has done a great job of cleaning everything up. The ballet was also taken from reel-to-reel tapes and has also been spruced up.
COLOMBE a two-CD set, is limited to 500 copies only and priced at $23.98, plus shipping. This is a PRE-ORDER – CDs will ship by the end of May, but never fear, we usually ship ahead of the official ship date.
Also note that your PayPal receipt is the only receipt you get Ė we donít send out confirmations beyond that.