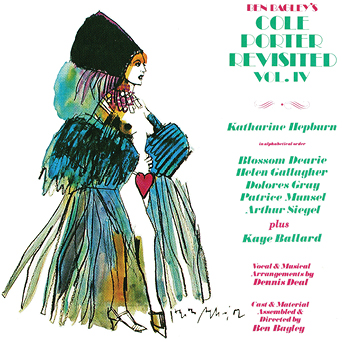 Kritzerland is proud to present the latest release in the Ben Bagley Revisited series:
BEN BAGLEY'S COLE PORTER REVISITED VOLUME IV
Music and Lyrics by Cole Porter
Charming, outrageous, lyrical, extraordinary, pithy, rarified, tuneful, earnest, ravishing – put them all together and what do they spell? Cole Porter, that master of melody and lyric invention. To that we can add witty, urbane, naughty, heartfelt, impish, and sophisticated. A simple list of his song titles embody all those qualities, from "Let's Misbehave" and "Let's Do It" to "Night and Day," "Love for Sale," "I Get a Kick Out of You," "Anything Goes," "All Through the Night," "You're the Top," "Blow, Gabriel, Blow," "Begin the Beguine," "Just One of Those Things," "It's DeLovely," "Ridin' High," "You'd Be So Easy to Love," "I've Got You Under My Skin," "In the Still of the Night," and many, many more.
Cole Porter Revisited Volume IV is another incredible volume in this five-volume series, and it includes many incredible rarities. For this album, Bagley gathered together a rather incredible group of ladies, including the likes of Katharine Hepburn, Dolores Gray, Helen Gallagher, Kaye Ballard, Patrice Munsel, Blossom Dearie, Ann Hampton Callaway, Sandy Stewart, and representing the male animal, the ubiquitous Arthur Siegel. Songs from Seven Lively Arts, Red, Hot, and Blue, Les Girls, Out of This World, Fifty Million Frenchman, You Never Know, Let's Face It, Gay Divorce, Can-Can and more, including songs from unproduced shows and songs cut from various shows. The arrangements and orchestrations of Dennis Deal, as always, really shine. As we've done for all these releases, we've considerably spruced up the sound for this new release. And the cover art is, of course, by the great Harvey Schmidt.
COLE PORTER REVISITED VOLUME IV is limited to 500 copies only and priced at $19.98, plus shipping. This is a PRE-ORDER – CDs will ship by the third week of September, but never fear, we've actually been averaging three to five weeks early in terms of shipping ahead of the official ship date. Lately, the pressing plant has been slower than usual due to the pandemic, but things are finally getting back on track.
Also note that your PayPal receipt is the only receipt you get – we don't send out confirmations beyond that.