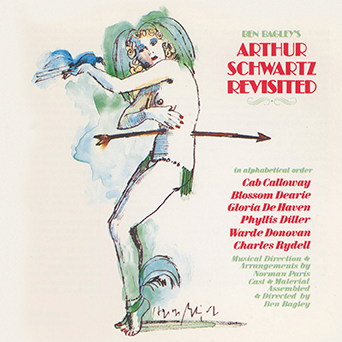 Kritzerland is proud to present the next release in our ongoing series of Ben Bagley reissues:

ARTHUR SCHWARTZ REVISITED

Music by Arthur Schwartz
Lyrics by Howard Dietz, Dorothy Fields, Ira Gershwin, Oscar Hammerstein, Frank Loesser, Al Stillman

Arthur Schwartz Revisited pays tribute to the great Arthur Schwartz, composer of such shows as By the Beautiful Sea, The Band Wagon, A Tree Grows in Brooklyn, The Gay Life, and Jennie. He also wrote for film, receiving an Oscar nomination for a song written with Frank Loesser, "They're Either Too Young or Too Old" and another nomination for "A Gal in Calico." Some of his all-time classic songs include "By Myself," "I Guess I'll Have to Change My Plan," "Dancing in the Dark," "Alone Together," "You and the Night and the Music," and, of course, the immortal "That's Entertainment."

But since this is a Ben Bagley album, it's all about the rarities and there are some real treasures here, sung by a wonderful company of singers, including Cab Calloway, Phyllis Diller, Gloria DeHaven, Blossom Dearie, and, on a bonus track, the great Ethel Merman and Jimmy Durante, with musical direction by the wonderful Norman Paris.

This was one of the best produced of the Bagley series, and, for whatever reason, one of the rarest of the original out of print CDs. But, as always, we've spruced up the sound, and we of course give you the great Harvey Schmidt artwork.

ARTHUR SCHWARTZ REVISITED is limited to 500 copies only and priced at $19.98, plus shipping. This is a PRE-ORDER – CDs will ship by the last week of January, but never fear, we've actually been averaging three to five weeks early in terms of shipping ahead of the official ship date.

Also note that your PayPal receipt is the only receipt you get – we don't send out confirmations beyond that.