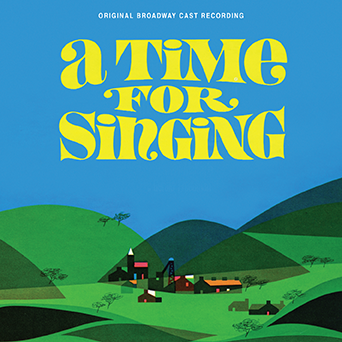 Kritzerland is extremely happy to announce a new limited edition cast album, the first-ever CD release for:

A TIME FOR SINGING
Original Broadway Cast Recording
Music by John Morris
Lyrics by Gerald Freedman and John Morris

Richard Llewellyn's 1939 novel, How Green Was My Valley, was a popular success, so much so that Twentieth Century-Fox purchased the screen rights immediately and released their Academy Award-winning film version just two years later. The film itself is very musical, with its beautiful score by Alfred Newman, and a lot of townspeople singing a lot of tunes. So, it must have seemed a natural for such a musical property to be turned into an actual musical, and in 1966 that's exactly what happened with the aptly retitled A Time for Singing. The team responsible for musicalizing How Green Was My Valley was first-time Broadway composer John Morris, and first-time book and lyric writers Gerald Freedman and Morris.

An impressive cast was assembled, including Shani Wallis, Laurence Naismith, Tessie O'Shea, and Ivor Emmanuel. The choreographer was Donald McKayle, and the sets were by the great Ming Cho Lee, lighting by Jean Rosenthal, and costumes by Theoni V. Aldredge. Orchestrations were by Don Walker and the musical direction by Jay Blackton – in other words, a Class A cast and creative team straight down the line. A Time for Singing opened on Broadway on May 21, 1966 after ten previews. The show received humdrum reviews and closed after only forty-one performances. Over the years, a cult has grown for A Time for Singing, thanks to its excellent cast recording that was issued by Warner Bros. Records. The score is beloved by hordes of theater music fans and the album was always a sought-after collector's item. It has taken a long time to bring it to CD, and we're thrilled to be the ones to do it. Perhaps the show will be rediscovered – certainly the score is worthy of rediscovery, with John Morris's lush and beautiful music, and excellent lyrics by Morris and Freedman.

For this first-ever CD release, the original album masters were used – they were in pristine condition and the sound is absolutely stunning. So, here, finally, is A Time for Singing and it is indeed truly a time for singing.

Check out our companion release – the first time ever complete soundtrack release to How Green Was My Valley, the source for A Time For Singing. Score by Alfred Newman. Get both – a perfect way to celebrate St. Patrick's Day!

This edition is limited to 1500 copies only. The price is $19.98 plus shipping.

CDs will ship the last week of April, however we may get them in earlier and if so will ship immediately. No promises, but that's always our hope.