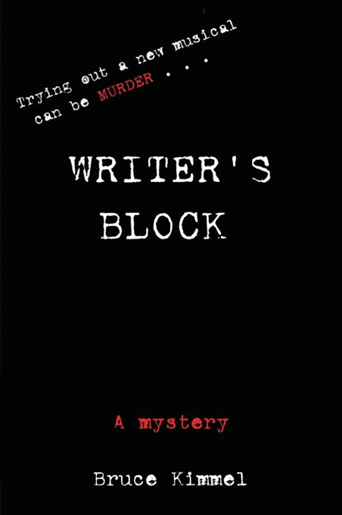 They say that trying out a new musical can be murder. It doesn't help that the show has a terrible second act, that the author has writer's block, that most of the company can't stand the composer/lyricist, that the show's bombastic producer is threatening to close it, that two key people on the creative team are having an affair with the same person, and that the personalities of everyone involved are short-fused and volatile. In other words, it's business as usual in the world of musical theater. But when someone vital to the show turns up dead, apparently of accidental causes, it's time for one member of the production team to become an amateur Broadway sleuth in search of the truth - was the death an accident or was it murder? Set in the world of Broadway musical theater in 1969, Writer's Block is a funny, bitchy, suspenseful tale of the creation of a new musical - from the start of rehearsals, through the tryouts in New Haven and Boston, to opening night and after. The arguments, the fights, the tensions, the betrayals - yes, there's no business like show business.

Reader reviews from Amazon.com : : : : : : : : : : : : : : : : : : : : : : : : : : : : : : : :
"Once again, writer-actor-director-producer-singer-bon-vivant Bruce Kimmel has shown that he is a veritable polymath. This time with a page-turning mystery with twists within twists and a fascinating back-story. With its raunchy language and some truly nasty characters, Writer's Block is quite a departure from the memoir trilogy Benjamin Kritzer, Kritzerland, and Kritzer Time, except that it shares Kimmel's whacky sense of humor and fascination with the vagueries of the English language and all things theatrical.
Set during the out-of-town tryouts and opening of a 1969 Broadway musical, the story evokes a the world of pre-Disneyfication Broadway, a world well known to the author, where baroque producers like David Merrick love'em or hate'em, still could make their mark on theatre through shear force of personality without the backing of a multinational corporation.
As we follow the roman-à-clé ins and outs of assorted theatrical types from city to city-with an eventual excursion to the City of Angels (in more than one sense)-the story turns from who'll-do-it to who-done-it to much more than that, with clues laid out subtly from the very beginning, much like Perkins and Sondheim's The Last of Sheila. And even with a double twist midnovel that practically pulls the rug out from under the reader, Kimmel follows the rule of a good mystery: lead the reader into increased confusion, and then leave him saying, "Of course, of course. I should have known. It all makes sense." — William F. Orr, Hempstead, NY

"I was excited to read this book because it combined to of my favorite genres - murder mysteries and musical theatre! The characters are interesting and kept me guessing the entire time. I won't give away any of the twists and turns in this book, but I will say this: YOU WON'T GUESS THE END! This is hands down one of the most fun mysteries I have ever read. I could not put it down." — Ella Frankie, Los Angeles, CA
Reader reviews from Amazon.com : : : : : : : : : : : : : : : : : : : : : :

"As a past actress and present screenwriter, WRITER'S BLOCK, a backstage mystery, is just the kind of book I look forward to reading -- and thus always begin with some trepidation, afraid that I'll be disappointed. I'm happy to report that there was no need to be afraid with this gem of a book. WRITER'S BLOCK is a clever, funny, hard-to-put-down romp of a mystery -- as well as an insider's tour of how to (or how NOT to) get a new musical on its feet and ready for Broadway. Author Bruce Kimmel's insider's knowledge of the world of musical comedy serves him well in this unusual mystery. To say what makes it "unusual" would be a spoiler. So just take my word for it -- you're in for some delightful surprises as well as some great laughs. By the way -- you don't have to be a fan of musical comedy to enjoy this terrific book -- but if you happen to be one, you'll have great fun figuring out who the characters are "based" upon. Gower Champion, Mary Martin, Bob Fosse, David Merrick and a whole list of the usual suspects will pop into your head.

To sum up, may I just say I'm absolutely thrilled that Bruce Kimmel does not suffer from writer's block. "
— Samantha Spade, Los Angeles, CA