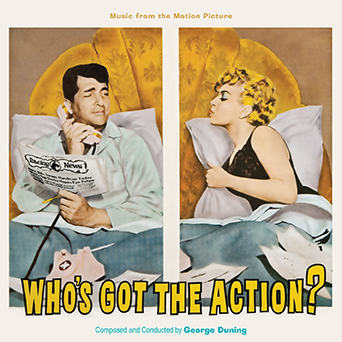 Kritzerland is proud to present a world premiere limited edition soundtrack release:

WHO'S GOT THE ACTION?

Music Composed and Conducted by George Duning

Once upon a time, the frothy and fizzy comedy was a staple of Hollywood – and these films, with nothing much on their minds other than providing an audience with lots of laughs and a good time, popped up weekly, year after year. Dean Martin did a number of them for Paramount, and in 1962 it was Who's Got the Action? And as if Dean Martin wasn't enough, add to the mix gorgeous Lana Turner and such brilliant comic actors as Eddie Albert, Paul Ford, John McGiver, Nita Talbot, and, most especially, Walter Matthau, and you have a recipe for a raucously funny romp.

But no frothy and fizzy comedy can succeed without a frothy and fizzy score, and Who's Got the Action? has a great one by a man who truly understood how to score a frothy and fizzy comedy – George Duning. Duning wrote instantly memorable themes and Who's Got the Action? is full of them. Duning's main theme uses a five-note motif that matches the syllables of "Who's Got the Action?" and it sets the tone for the rest of the score, which is quirky, lushly romantic, effervescent, and just plain memorable. Duning was one of the greats, whether scoring comedies such as this, or films like Picnic, The World of Suzie Wong, The Devil at Four O'Clock or his brilliant television scores for Paramount's Star Trek, The Original Series.

This is the world premiere release for Who's Got the Action? The score is presented as it is heard in the film. The tracks are mostly stereo, but five of the film's twenty cues existed in mono only on the music stem. Nonetheless, we felt that presenting them in order was the best way. As a bonus, we include a demo version of the title tune with lyrics by Jack Brooks, and a couple of classical cues used as source music. It's always a treat to bring more George Duning to CD. He was a wonderful composer whose work is always fresh and melodic – what great film music is all about.

Who's Got the Action? is limited to 1000 copies only. The price is $19.98, plus shipping.

CD will ship the last week of February but preorders placed at Kritzerland usually ship one to five weeks early (we've been averaging four weeks).
(Click on cover for enlarged version)
• Click on titles below to hear a song sample:


• Main Title*
Roza
Good Morning, Mr. Flood*
Alimony Bridge*
Uncles Are Aunts/Soft Soap*
Saturday Knight
Blue Eyes*
Bright Idea/Incense and Saki*
Japanese Record
Passing the Scratch
Clutch in Dutch
• Empty Spaces
Maharajah Wins/Smooth Smooching
• Shaky Clutch*/Bookie Blues*
Zoomar*
Hoodwink Bridge*/The Final Faint*
• Matinee Madness*/No Excuse*
The Culprit*
• Alibi/Bridal Brisket*
• Bastille Day/Finale*

Bonus tracks
Who's Got the Action? (vocal version – demo)*
La Scala
La Scala No. 1
Piano Trio No. 7 in B-flat Major – excerpt
(Ludwig van Beethoven)
Hungarian Dance No. 5 in F-sharp Minor
(Johannes Brahms)
*Contains "Who's Got the Action?
by George Duning and Jack Brooks