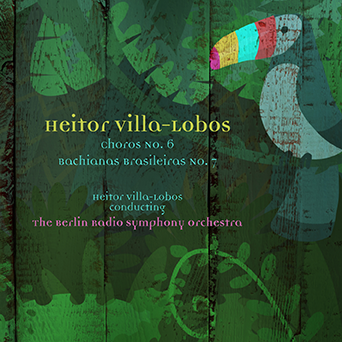 Kritzerland is proud to present another classical release, two amazing works in historic performances conducted by the composer:

HEITOR VILLA-LOBOS

Choros No. 6
Bachianas Brasileiras No 7

Heitor Villa-Lobos conducting The Berlin Radio Symphony Orchestra

Has there ever been a composer quite like Heitor Villa-Lobos? He was not only hugely prolific, but also completely unique, his music living in an exotic sound and tone world like no other. He wrote in classic forms – symphonies, concertos, string quartets, ballets, operas – but his music, even in his earliest pieces, is refreshing and original. By the end of his life he was known as the best South American composer of all time, with over 2,000 published works – eclectic and diverse works that remain as fresh, vibrant, and vital today as the day they were written, especially his amazing Choros and Bachianas Brasileiras, which were amongst his most famous and admired works. His music appealed to jazz musicians, several of whom made jazz renditions of his music, including Bill Evans, Claus Ogerman, and guitarist Jan Akkerman. He had a healthy concert career conducting his own music. His music was also adapted by the writing team of Robert Wright and George Forrest (Kismet) for the Broadway musical, Magdalena.

The music of Villa-Lobos was always very evocative and would have been at home in any number of films. He did, in fact, write one major studio film score, but it was not a happy experience. He was hired to score the MGM film, Green Mansions, starring Audrey Hepburn and Anthony Perkins. But as these things go in Hollywood, much of his music was replaced by composer Bronislau Kaper.

Both the "Choros No. 6" and "Bachianas Brasileiras No. 7" are filled with Villa-Lobos' trademark exotic instrumentation and orchestral color and both pieces have stunningly gorgeous melodies and are profoundly beautiful.

The two works on this CD were recorded in mono sound by Remington Records in Berlin during 1954. While Villa-Lobos recorded "Bachianas Brasileiras No. 7" for Pathe/EMI, this remains the only recording of him conducting the "Choros No. 6." These two works were issued on CD back in 1986 sounding as good as the then technology would allow. But for this CD they have been given what we hope you'll find is a large and significant upgrade in sound – they now sound as good as the day they were recorded and the mono sound is crisp, clean, open, and detailed as never before. These are wonderful performances and historically important.

Choros No. 6/Bachianas Brasileiras No. 7 is limited to 500 copies only and priced at $19.98, plus shipping. CDs will ship by the second week of February, but never fear, we've actually been averaging three to five weeks early in terms of shipping ahead of the official ship date and we'll definitely have it to you before Christmas.

ATTENTION INDIEGOGO CONTRIBUTORS: IF YOU WANT TO RECEIVE THIS RELEASE YOU MUST OPT-IN BY SENDING US AN E-MAIL – SEND TO kritzerland@gmail.com. IF YOU DO NOT WISH TO RECEIVE IT, YOU DON"T NEED TO DO ANYTHING. IF YOU ARE NOT AN INDIEGOGO CONTRIBUTOR, ORDER AS YOU NORMALLY WOULD. THANK YOU.