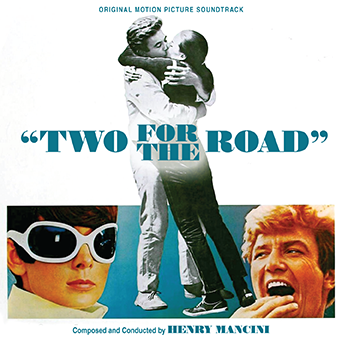 Kritzerland is proud to present a world premiere release of the complete score to the classic film:

TWO FOR THE ROAD

Composed and Conducted by Henry Mancini

Whatever that strange alchemy that happens between performer and camera, Audrey Hepburn had it in spades. And she also had it with Henry Mancini – four of his best scores were written for films she starred in. Beginning with Blake Edwards' 1961 film, Breakfast at Tiffany's, Mancini and Hepburn were pure screen magic – her beauty lighting up the screen luminously, and his music capturing her captivating charms perfectly. Just hearing the main title for Breakfast at Tiffany's or its song, "Moon River," immediately conjures up Hepburn's face, just as hearing the theme from Stanley Donen's 1963 classic, Charade, does the same. Mancini's score for the 1967 film Wait Until Dark not only captures the suspense inherent in the film, but also Audrey's "world's champion blind lady" character, making the viewer care about her and what might potentially happen to her at the hands of some extremely bad men. And it's simply not possible to hear the main theme from Two for the Road (also 1967) without thinking of Hepburn and her screen magic. Upon its release, Two for the Road was an instant classic, garnering rave reviews and captivating audiences with its acerbic, romantic, funny, hurtful, and rueful examination of marriage, thanks to expert performances by Hepburn, Albert Finney, Eleanor Bron, William Daniels, and the rest of the cast, a brilliant script by Frederic Raphael and superb direction by Stanley Donen.

At the time of Two for the Road, Mancini was one of the most in demand film composers working. In addition to the Audrey movies listed above, he'd also written classic scores for The Great Imposter, Experiment in Terror, Hatari, Days of Wine and Roses, Soldier in the Rain, The Pink Panther, A Shot in the Dark, Dear Heart, The Great Race, Arabesque and others. And, of course, subsequent to Two for the Road, he continued to write one great score after another.

In Two for the Road, Mancini came up with one of his most heartfelt and beautiful main themes, which perfectly captures everything about the marital journey in the film, from its joys to its sorrows, to its recriminations, betrayals, and rebounds. Nobody wrote this kind of score better than Mancini. It is suffused with warmth, sadness, fun, and joy. Leslie Bricusse wrote a lyric to the main theme and that song has had a long life in recordings and cabaret acts.

At the time of the film's release, there was the usual Mancini re-recorded album, really meant for a pop market. This is the first release of the actual soundtrack of the film, taken from the elements in the Fox vaults – a mono back-up copy, thankfully saved. It's classic Mancini and the kind of score no one really would be allowed to write today.

Two for the Road is limited to 1000 copies only and is priced at $19.98, plus shipping.

CDs will ship by the last week of last week of April or the first week of May, but we've actually been averaging three to five weeks early in terms of shipping ahead of the official ship date.

ATTENTION INDIEGOGO CONTRIBUTORS: FOR THIS RELEASE – IF YOU WANT TO OPT-OUT OF RECEIVING IT YOU WILL NEED TO SEND US AN E-MAIL OPTING OUT PRIOR TO THE DATE IT SHIPS – SEND TO kritzerland@gmail.com. IF YOU WISH TO RECEIVE IT, YOU DON'T NEED TO DO ANYTHING. IF YOU ARE NOT AN INDIEGOGO CONTRIBUTOR, ORDER AS YOU NORMALLY WOULD. THANK YOU.