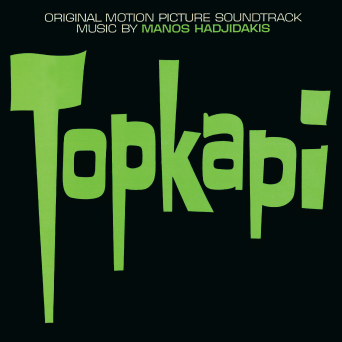 TOPKAPI
Music Composed and Conducted by Manos Hadjidakis
TOPKAPI – WHERE THE JEWELS ARE!
Kritzerland is proud to present its newest limited edition CD – the original motion picture soundtrack from Topkapi, with a score by Manos Hadjidakis.
In 1956, blacklisted director Jules Dassin was living in Paris and made a film that would instantly become a prototype for an entire genre of film – Rififi, the classic caper film, with its incredible half-hour long wordless and silent robbery sequence. He followed that with another international sensation, Never On Sunday. Then, in 1964, he went back to the caper film, only this time, instead of a gritty black-and-white drama, he did a candy-colored comedy caper film called Topkapi, which starred his Never On Sunday leading lady, Melina Mercouri, along with a great cast that included Maximillian Schell, Peter Ustinov, and Robert Morley as a rag-tag group of thieves out to steal a diamond-encrusted dagger from the Topkapi museum. The film was a complete delight, a hit, and garnered Ustinov a well-deserved Academy Award.
As with Never On Sunday, Dassin turned to Manos Hadjidakis to provide the score, and Hadjidakis delivered the goods – a score filled with wonderful melodies and orchestral colors that matched perfectly the bright candy-colored images on the screen. It's one of those scores that just makes you smile and one that keeps the movie flying along at a wonderful clip. At the time of the film's release, United Artists released a soundtrack album, both stereo and mono, but like its release of Tom Jones, the stereo album was really mono – the score was recorded in mono and there were never any stereo masters. For this CD release, we had both the album masters and a set of 15ips session masters – since the latter were a generation better and cleaner than the album masters, we used those to create the CD. The original LP ran about thirty-two minutes – this new CD runs over forty-five minutes, and the score has been put into film order, which makes for a terrific listening experience. Additionally, we found four cues that weren't used in the film and we've included them as bonus tracks.
Topkapi is a colorful, tuneful, exciting, and delightful score by one of Greece's greatest composers. As the ad copy says – "It's where the jewels are."
This release is limited to 1000 copies only. The price is $19.98 plus shipping.
CDs will ship in mid to late August – however, preorders placed directly through Kritzerland usually ship one to five weeks earlier.