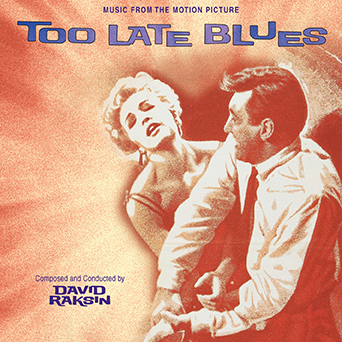 Kritzerland is proud to present a world premiere limited edition soundtrack CD release:

TOO LATE BLUES

Music Composed by David Raksin

Too Late Blues (1962) is certainly one of the greatest films ever made about the jazz world. Despite being a studio movie and being scripted, it feels like jazz, like an improvisation. Given the maverick nature of John Cassavetes and the rawness of his first film, Shadows, it was truly bold of Paramount Pictures to hand the reins of a big studio production to someone like Cassavetes. But that's exactly what happened with Too Late Blues. It was a perfect match between subject matter and filmmaker. In 1959, Cassavetes had starred in a TV series called Johnny Staccato, playing a jazzman who moonlights as a detective.

Too Late Blues is a beautifully made film, with great performances and gorgeous black-and-white photography, and a score to die for, by the great David Raksin. There is a lot of jazz in Too Late Blues. The easy way out would have been to do standards, but Raksin wrote all original music for the film, even for the source cues. And what music it is – Raksin at his best, and Raksin at his best is as good as it gets. It didn't hurt that he was working with some of the best West Coast jazz players of that era, including Red Mitchell, Benny Carter, Shelly Manne, Jimmy Rowles, Milt Bernhart, and the best studio musicians anyone could hope for – including the amazing trumpet player Uan Rasey.

Raksin wrote one of his most exquisite and inspired themes for the film, which he titled "A Song After Sundown." It's heard in jazz guises, within the dramatic score, and even as a vocalise performed by Stella Stevens' character. It's a haunting, melancholy theme filled with sadness and yearning – classic Raksin, as are the jazz cues and the dramatic score. It's all of a piece – absolute perfection in the picture and wonderful to listen to outside the film as well.

This is the world-premiere release of Too Late Blues. We had access to the scoring session masters and the original prerecords done for the "live" playing in the film. The latter were all recorded in one-track mono, while the score cues and some of the source cues were recorded in three-track stereo. Given how the music functions in the film (the first dramatic score cue occurs over an hour into the film), we took a different approach in sequencing the album, trying for an optimal listening experience rather than strict film order – which would have given an hour of jazz cues before the first score cue. We have included all the music written for the film – first the film cues, and then a bonus section filled with alternates and various odds and ends, over seventy-six minutes of prime David Raksin.

Too Late Blues is limited to 1000 copies only. The price is $19.98, plus shipping.

CD will ship the final week of June, but preorders placed at Kritzerland usually ship one to five weeks early (we've been averaging four weeks).



(Click on cover for enlarged version)
• Click on titles below to hear a song sample:


Seal One Part 1 – Sax Raises Its Ugly Head
• Theme from Too Late Blues (A Song After Sundown)
The Rim Shot Heard 'Round the World
Mother Time (Juke Box)
Something Like Noodles/Something Like Bulio/
Something Like That
• Heel and Toe – Get Wildroot Hair Oil, Charlie
Bass Canard (short version)
• Look Inward, Angel
Danzon
A Song After Sundown
Sambalero
Recording Studio Part 2 – A Song After Sundown
Wither Thou, Ghost!
• Blues for Tomorrow
Ulysses in Swanktown
Like Lasagna
• Ghost Blows Test
• Benny Splits While Jimmy Rowles
Ciudad de Mexico
Wife's Other John
Finale – The Rim Shot Heard 'Round the World
Bonus tracks
Paramount Seal and Tie-In (alternate version)
Danzon
Ciudad de Mexico
Some Other Time
Benny Splits While Jimmy Rowles (short version)
Look Inward, Angel (combo)
Look Inward, Angel (combo – long version)
The Rim Shot Heard 'Round the World (alternate)
Sambalero
Bass Canard (long version)
Wife's Other John (extended version)