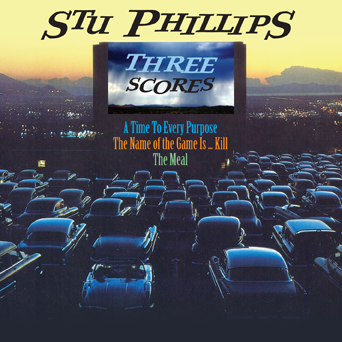 ALONG CAME STU
Kritzerland is proud to present three world-premiere releases on one CD:
STU PHILLIPS – THREE SCORES
A Time to Every Purpose, The Name of the Game is… Kill, The Meal
To say Stu Phillips has done it all would be an understatement – firstly, he has done it all, and secondly, he's still doing it. He's been a jack-of-all-trades from the beginning, and the amazing thing is he did all trades equally well, whether it was musical directing for people like Jimmie Rodgers or Chris Connor, producing and receiving gold records for such classics as "Blue Moon (The Marcels), "Johnny Angel" (Shelley Fabares), "Goodbye, Cruel World" (James Darren), producing (at Colpix) other artists like Nina Simone, Vince Edwards, The Chad Mitchell Trio, The Ronettes (Stu was there first, pre-Phil Spector), creating, producing, and arranging the amazing The Hollyridge Strings (twelve albums in all – at one time three of the albums were in the Billboard Top 20), or writing songs with various co-writers that were recorded by the likes of Tammy Wynette, B.B. King, George Hamilton, Dino, Desi, and Billy, The Sandpipers, The Electric Prunes, Nancy Sinatra, and on and on. And, of course, composing music for television and films.
The scores for these three films are really terrific and each is very different. Each score is orchestral. For A Time to Every Purpose, the orchestration relies heavily on strings, with a solo harmonica and solo flugelhorn the other featured colors. Acoustic guitars are used extensively for the underlying rhythm patterns and it's very lyrical and beautiful. In addition to the orchestra, The Name of the Game is… Kill features one of the earliest uses of the Moog snythesizer on a film score, along with other electronic instruments and effects including electric cellos and an electrified harpsichord. It's a strange and percussive score that really works in the film and as a listening experience. Finally, The Meal has bits of a Rachmaninoff prelude (#6), which Stu has set beautifully for orchestra, part of an original piano concerto composed by Phillips, and some marvelous orchestral writing, predominantly for strings and piano. It all adds up to a great Stu Phillips triple bill.
Some of Stu Phillips' early TV work includes The Donna Reed Show, Gidget, and The Monkees, and film scores include Danny Kaye's The Man From The Diner's Club, Ride the Wild Surf, Hells Angels on Wheels, and the ultra-classic cult film, Beyond the Valley of the Dolls. But it was his work in the 1970s that made him legendary. In 1974 he began a seven-year run at Universal Studios, composing the music for some of the most beloved shows of that or any era – The Six Million Dollar Man, McCloud, Quincy, Switch, The Hardy Boys and Nancy Drew, Battlestar Galactica, Buck Rogers, Knight Rider, and many others. Then, at 20th Century Fox, he did an astonishing ninety-six episodes of the Lee Majors series, The Fall Guy. Other TV shows include Spiderman, Chicago Story, Medical Center, and Along Came Bronson. In the last four years, there have been three hit hip hop/rap versions of the Knight Rider theme by Busta Rhymes, Timbaland & Magoo, and Panjabi MC with Jay-Z. Which just goes to show you, when you're cool, you're cool. And Stu has always been the coolest.

The three scores are presented in their original mono, mastered from Stu's own masters, which were in excellent condition.
This release is limited to 1000 copies only. The price is $19.98 plus shipping
CD will ship by the second week of August – however, preorders placed directly through Kritzerland usually ship one to five weeks earlier (we've been averaging four weeks early).