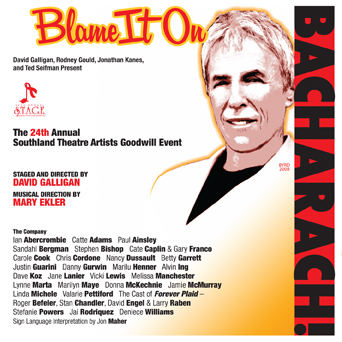 Kritzerland is proud to present a new CD release:
BLAME IT ON BACHARACH
The 24th Annual STAGE Benefit Concert
The annual STAGE benefits have been going on for over twenty-five years now – they are always an exciting event, peopled with wonderful performers doing wonderful music. Several of them have been recorded live and released on CD, including the Kritzerland release of Schwartz, Schwartz, and Strouse. We are very pleased to present three never before released recordings, including this electrifying tribute to the brilliant Burt Bacharach – one of the most tuneful and unique pop, film, and theatre composers ever.
Featuring an amazing company of performers, including Melissa Manchester, Stephen Bishop, Vicki Lewis, Donna McKechnie, Dave Koz, Marilyn Maye, Nancy Dussault, Stefanie Powers, Danny Gurwin, Justin Guarini, Catte Adams, Carole Cook, Jai Rodriguez, Valarie Pettiford and more, all singing such Bacharach classics as "Baby, It's You," "A House Is Not a Home," "Alfie," "Anyone Who Had a Heart," "Blue on Blue," "The Look of Love," "Walk on By," and, from Promises, Promises, "Half as Big as Life," "Turkey Lurkey Time," and "I'll Never Fall in Love Again," and more.
Recorded live, with all the vitality and excitement and, yes, sometimes roughness that goes with the territory. It was a once-in-a-lifetime evening and it's captured in all its glory on this CD.
The price is $19.98 plus shipping. A portion of the proceeds goes to AIDS Project, Los Angeles, and other AIDS organizations.
CD will ship by the fourth week of May – however, preorders placed directly through Kritzerland usually ship one to five weeks earlier (we've been averaging four weeks early).