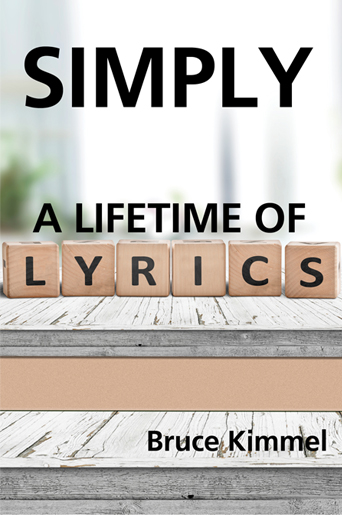 Bruce Kimmel has had a long and varied career as an actor, director, writer, and Grammy-nominated record producer. But whenever people have heard one of his songs, the invariable response is, "I had no idea you wrote songs." And so, for his twentieth book and third book of non-fiction, Kimmel presents a book of his lyrics, lyrics written over five-and-a-half decades.
Kimmel began writing music and lyrics when he was fifteen. Since then, has written many musicals, has written songs for cable TV and films, including his 1970s cult movie musical smash, The First Nudie Musical, and is still the only person to have ever had a backer's audition for a show on national television, specifically his first original musical, Start at the Top, on The Merv Griffin Show. This book's title, Simply, is the title of his MAC Award-winning song. Many of his songs have been recorded, many of his shows have cast albums, and this book is filled with lyrics that are funny, touching, and clever. They are lyrics that tell stories, and they are lyrics that are filled with craft and style. But it's not only the lyrics, it's the stories behind the lyrics – how the songs were shaped, details about the shows and films, and explanations of how and why he writes in the way he does.
Culled from his shows, films, TV shows, and standalone songs, these lyrics are indeed a lifetime of lyrics and a lifetime in lyrics.
This is Bruce Kimmel's twentieth book and his third book of non-fiction. In addition to his books, he has written and directed for movies, television, and the stage, is an award-winning composer/lyricist, a Grammy-nominated record producer of more than two hundred albums, is the owner of the Kritzerland record label, which has issued hundreds of classic soundtrack and show CDs, and he can sing the entire score to Whoop-Up by heart . He also has the longest-running daily blog in the history of the Internet, having never missed a day since its debut in November of 2001, mere days before he completed his very first novel, Benjamin Kritzer. He is also an avid collector of almost anything, but especially books and art.


:::::::::::::::::::::::::::::::::::::::::::::::::::::::::::::::::::
ADVANCE PRAISE FOR SIMPLY
"If you ever heard a lyric you loved ... or a lyric you heard made you think of someone you'd loved ... or you'd love to write something that no song has ever said in quite that way before ... then Simply is required reading. Both an endearing memoir and insightful songwriting guidebook, Simply is also an invaluable compendium of eminently readable verses, written by the kind of lyricist who still believes that meter really matters, and that rhyming hunch and scrunch can be a two-fisted payoff punch. Some believe the classic American pop lyric has found its final sanctuary in Nashville, but Simply demonstrates that our native craft still flourishes at the Salon de Kimmel in the City of Angels. Simply: A Lifetime of Lyrics is the artful romance of Bruce Kimmel's affair with songwriting, a love he's sustained for simply a lifetime."
— Rupert Holmes
Tony and Edgar award-winning playwright and author
"Bruce's lyrics abound with wit, style, originality, and perspicacity. They shine throughout this gossamer collection".
— Richard M. Sherman of the Sherman Brothers.




Copies ordered through this site will be signed by the author and include some fun extras.