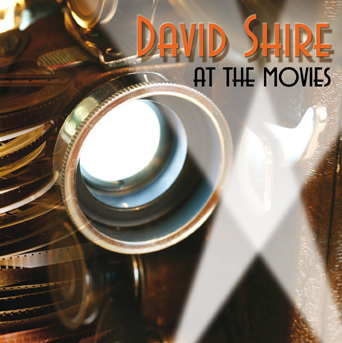 Originally released in 1992 and out of print for the last thirteen years, David Shire At The Movies is a wonderful compendium of Mr. Shire's film music up to that point. Mr. Shire is one of film music's most unsung heroes, and this album is filled with his memorable themes from such films as Norma Rae, The Conversation, Max Dugan Returns, Return From Oz, Only When I Laugh, Fast Break, 'Night, Mother, Old Boyfriends, The Earthling, The Promise, Farewell, My Lovely, and others.
The CD also features special guests Maureen McGovern and Carol Neblett. Miss McGovern lends her unmistakable and beautiful voice to four of Mr. Shire's classic movie songs, including the Oscar-winning "It Goes Like It Goes" (from Norma Rae), Only When I Laugh, The Promise, and "Halfway Home" (from The Earthling).
This was the first Shire album of its kind, and one of its joys is to hear these tracks in these chamber settings – unadorned – unplugged, as it were – just those incredibly gorgeous Shire melodies played by their composer and a handful of the best studio musicians who were working back then. As a bonus, we are including Mr. Shire's delightful Sonata for Cocktail Piano – the album runs over seventy-seven minutes.
The album has been remastered, with improved sound, and the packaging is all new and includes lengthy and informative notes by Mr. Shire. The album was produced by Bruce Kimmel and Nick Redman.
This release is limited to 1200 copies only.
• Click on titles below to hear a song sample:

• Max Dugan Returns Dominic Fera, clarinet
• It Goes Like It Goes from Norma Rae
Sung by Maureen McGovern
Farewell, My Lovely
• Old Boyfriends Pamela Goldsmith, viola
Only When I Laugh Sung by Maureen McGovern
The Conversation
Bed and Breakfast (Suite) Stuart Canin, violin
• 'Night Mother Tommy Tedesco, guitar
• I'll Never Say Goodbye from The Promise
Sung by Maureen McGovern
• With You I'm Born Again from Fast Break
The Hindenburg
Carol Neblett, soprano; Malcolm McNab, trumpet
Something For Joey
Halfway Home from The Earthling
Sung by Maureen McGovern
Return To Oz (Suite)
Stuart Canin, violin; Ron Leonard, cello;
Dominic Fera, clarinet;
Malcolm McNab, trumpet and cornet
Bonus: Sonata for Cocktail Piano