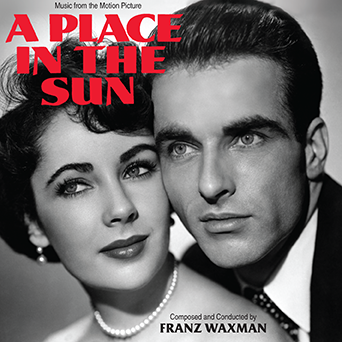 Kritzerland is very proud to present the world premiere release of the original soundtrack to one of the most iconic films ever made:

A PLACE IN THE SUN

Music Composed and Conducted by Franz Waxman

Theodore Dreiser's novel An American Tragedy was published in 1925 and became hugely popular despite its two-volume length. In 1931, Paramount Pictures brought An American Tragedy to the screen, directed by Josef von Sternberg. That film version was not a hit with either critics or audiences – or Theodore Dreiser. It took another twenty years for Paramount to revisit An American Tragedy, but this time everything came together in perfect harmony to create what is certainly one of the greatest movies ever made.

Thanks to a perfect cast, perfect direction and an excellent screenplay, the story of a poor working class young man who comes to work for his wealthy uncle and gets embroiled in relationships with two very different women – one a fellow worker, and one a stunningly beautiful socialite – resonated with audiences and critics. The perfect direction was by George Stevens, the excellent screenplay was by Michael Wilson and Harry Brown, and the perfect cast included iconic performances by Montgomery Clift, Elizabeth Taylor and Shelley Winters, along with a great cast of supporting players that included Anne Revere, Fred Clark, Raymond Burr, Keefe Brasselle, Herbert Heyes, Shepperd Strudwick and Ted de Corsia. At Academy Awards time the film received a whopping nine nominations and took home the prize for six of them (Best Director; Best Writing, Screenplay; Best Cinematography, Black-and-White; Best Costume Design, Black-and-White; Best Film Editing; and Best Music, Scoring of a Dramatic or Comedy Picture).

It would be difficult to imagine A Place in the Sun without its brilliant Franz Waxman score, distinguished by what is surely one of film music's most beautiful and exquisite main themes. The heart and soul of Waxman's score is "Vickers Theme," and it recurs throughout the score in many guises. It's a stunning theme and one that captures the essence of the film with sublime perfection. But all of Waxman's music for the film is sublime – there's really not much more to say than that because the proof is in the hearing. This is film music as film music is meant to be – not padding, not filler, not sound design – film music designed to underscore the images on screen, the characters, the drama.

The film was shot in 1949 and was originally going to be released the following year. However, Paramount delayed release until 1951 so it wouldn't have two blockbuster hits competing against each other in the 1950 Academy Awards (the other blockbuster being Billy Wilder's Sunset Blvd.). The delay in release enabled director George Stevens to keep tinkering with the editing and, in so doing, he decided that a few cues would need to be re-scored. Since Waxman did an astonishing seven films in 1951, it was probably impossible for him to do the re-scoring himself, so Daniele Amfitheatrof and Victor Young were both enlisted to perform the task. Both composers honored and adhered closely to Waxman's music. It's probably safe to say that it's not really possible to think of film music without thinking of the name Franz Waxman. He was simply the crème de la crème, and A Place in the Sun is one of his true masterworks.

This world premiere release of the surviving A Place in the Sun music masters stored in the Paramount vaults – augmented by a couple of cues from the music and effects tracks – adds up to over fifty-one minutes of glorious music. Our wizard audio restoration man, Chris Malone, did amazing work on the cues taken from the masters, and – for the others – was somehow magically able to keep the music and eliminate the effects while never compromising the audio quality. Several cues are in the original form in which they were written by Waxman, and some are the re-scored versions.

A PLACE IN THE SUN is limited to 1000 copies only and priced at $19.98, plus shipping.

CD will ship the final week of August, but preorders placed at Kritzerland usually ship one to five weeks early (we've been averaging four weeks).