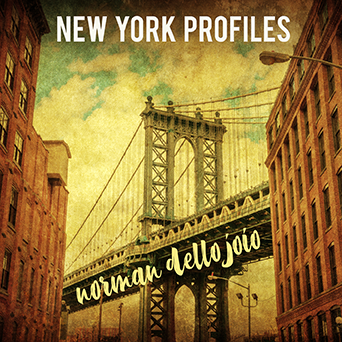 Kritzerland is also proud to present another in our ongoing series of classical releases:

NEW YORK PROFILES – THE MUSIC OF NORMAN DELLO JOIO

Music composed by Norman Dello Joio

Once upon a time in America, we had a Golden Age of American classical music. It was an exciting time, and new American works were being premiered week in and week out – new symphonies, concertos, ballets, operas – and in addition to the superstars like Aaron Copland, George Gershwin, Howard Hanson, Leonard Bernstein, Samuel Barber and a few others, we heard works by Roy Harris, William Schuman, Randall Thompson, Robert Ward, Douglas Moore, Lee Hoiby, Virgil Thomson, Walter Piston, David Diamond, Henry Cowell, Homer Keller, and on and on and on, including the subject of this CD: Norman Dello Joio. Over the course of his long and successful career, Dello Joio won numerous awards, including, in 1957, the Pulitzer Prize for Meditations on Ecclesiastes. He was associated with the brilliant choreographer, Martha Graham, for whom he composed several ballets. He also wrote several scores for television, including his classic music for Air Power, Here Is New York, which used some themes from his work New York Profiles, and several others including his 1965 score to The Louvre, for which he won an EMMY award.

Dello Joio's music is at its heart, tonal and accessible. He could be adventurous but in the end his music remains both powerful and extremely beautiful, as the works on this CD demonstrate brilliantly. Mastering engineer James Nelson has worked wonders with some classic mono recordings, and "New York Profiles" is presented in beautiful stereo.

NEW YORK PROFILES – THE MUSIC OF NORMAN DELLO JOIO is limited to 500 copies only and priced at $19.98, plus shipping. This is a PRE-ORDER – CDs will ship by the last week of October, but never fear, we've actually been averaging three to five weeks early in terms of shipping ahead of the official ship date.

Also note that your PayPal receipt is the only receipt you get – we don't send out confirmations beyond that.
(Click on cover for enlarged version)
• Click on titles below to hear a song sample:



New York Profiles

• 1. Prelude – The Cloisters
2. Caprice – The Park
3. Chorale Fantasy – The Park
4. Festal Dance – Little Italy
Oslo Philharmonic Orchestra
Arthur Bennett Lipkin, conductor
• 5. Meditations on Ecclesiastes
Oslo Philharmonic Orchestra
Alfredo Antonini, conductor
Three Ricercari for Piano and Orchestra (1946)
• 6. Allegretto giocoso
• 7. Adagio
8. Allegro vivo
Concert Hall Symphony Orchestra
Germaine Smadja, piano
Henry Swaboda, conductor
• 9. Epigraph for Orchestra (1952)
Vienna Symphony Orchestra
Hans Swarowsky, conductor