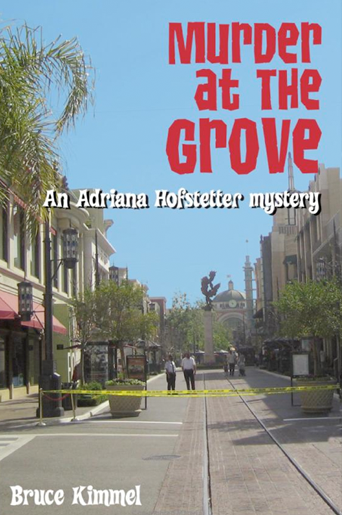 Fans of mysteries, especially West Coast-centric mysteries, rejoice! The irrepressible and irresistible teenage sleuth Adriana Hofstetter is back, with funny-snarky attitude, 40s wardrobe, hippy-dip but caring mom and BFF Billy Feldman intact, and a puzzling new murder to occupy her summer vacation. This time the scene is L.A.'s super mall, The Grove, with Adriana forced to deal with such alien (to her) contemporary concepts as iPods, YouTube and FaceBook to catch the killer of an Apple Store employee. Put away that new iPhone and enjoy.-Dick Lochte, author of Sleeping Dog and Croaked!In Murder at the Grove, occasional teenage gumshoe and always odd duck, Adrianna Hofstetter, is at it again, sticking her quirky nose where it doesn't belong; worrying her mother, fretting her friends (make that friend...just one), irritating the police, and persistently interrogating an array of annoyed suspects about a murder case which everyone insists doesn't exist. But the determined and indefatigable Ms. Hofstetter's skewed sleuthing ferrets out the facts faster than she can wolf down onion rings at a local Hollywood bistro. The clues, characters, and locale are all explored with the same eccentric but affectionate Kimmel whimsey displayed in Murder at Hollywood High and the Benjamin Kritzer trilogy.
—Charles Edward Pogue,
screenwriter of The Fly and Dragonheart

Reader reviews from Amazon.com : : : : : : : : : : : : : : : : : : : : : : : : : : : :
"I had thought no mystery could make me laugh and think as much as the first book ( Murder at Hollywood High - read it!), but the sequel stays true to the feeling of the first book, making me laugh at and wonder about my generation even more.
All my favorite characters came back : Adriana, Billy, Margaret, the well meaning but too busy to bother detectives, Furball, and even Adriana's computer, which has a mind of it's own. There is also a splendid array of new characters for the mystery itself, each uniquely human and a reminder of someone I know.
Being a member of Miss Hoffsetters generation I find myself drawn to these books like a moth to flame. The insight Bruce Kimmel has into the minds of those so removed from the world he knew as a teen is uncanny. He dives into and reveals the dark world of clubbing and drugs, the high tech world of iphones and MMORPG's, and the strange and deep relationships teens form between each other and adults.
Bruce Kimmel always pours his all into his books, researching things he could just gloss over and giving detailed descriptions of places that make you feel like you are there. I highly recommend this sequel, along with all his books for a good cozy read and a laugh."
— Adrianna Patti, Los Angeles, CA
"In her sophomore outing, Adriana Hofstetter does not disappoint. The loveable misfit returns to solve a new case, learning new things about the Internet and pondering the lost Los Angeles of yore along the way. With best friend Billy's help, and dodging the hurdles of her well-meaning but protective mother Margaret, Adriana cuts through the clues with sheer determination. The dubious authorities are finally persuaded, leading to a climactic revelation. Who knew that onion rings and green beans could be so fine?" — Singdaw, New York, NY