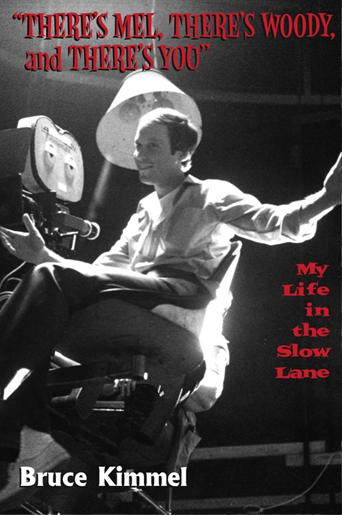 There's Mel, There's Woody, and There's You
My Life in the Slow Lane
Bruce Kimmel has managed to eke out a career in one form of show business or another for over forty years. A successful Grammy-nominated record producer, Kimmel began his show business journey as an actor, in a time when being a young up-and-coming thespian was fun, thrilling, and when anything seemed possible. It was a different world for a young actor in the 1970s, and Kimmel's journey is paved with laughs, tears, success, and an amazing cast of players. At twenty-seven, he wrote, co-directed, and starred in a film that would become a major cult success, The First Nudie Musical. He did TV pilots, guest shots, series, plays. He met and worked with incredible people. It was the kind of time we will never see again.
And then things changed. The nature of the business changed. And the path to dealing with those changes—getting older, trying to survive in an ever increasingly negative and cutthroat world—becomes a story of reinvention and rebirth. Through it all, Kimmel tells his tale with wit, candor, affection, and self-effacing honesty.
Enjoy being the fly on the wall as Kimmel hangs out with Elsa Lanchester, Christopher Isherwood and Don Bachardy; goes to Groucho's house and plays the piano for him; works with Shirley Jones, David Cassidy, Susan Dey on The Partridge Family. We observe his long friendship with Cindy Williams, watch as he works with screen legends Patricia Neal, Jean Simmons, Leslie Nielsen, Patrick Macnee, Bud Cort, and Geraldine Fitzgerald, and as he hangs out with Hugh Hefner at the Playboy mansion.
Bruce Kimmel's showbiz tales are loaded with laughs, wide-eyed wonder, and heart.
Bruce Kimmel has written nine other books—his acclaimed Kritzer trilogy (Benjamin Kritzer, Kritzerland, and Kritzer Time), Writer's Block, Rewind, How To Write A Dirty Book and Other Stories, and his popular Adriana Hofstetter mystery series, Murder At Hollywood High, Murder At The Grove, and Murder At The Hollywood Historical Society. He has done many other things, the majority of which you can read about in this book.

:::::::::::::::::::::::::::::::::::::::::::::::::::::::::::::::::::
Despite claims of a "life in the slow lane," Bruce Kimmel's warm and witty remembrance of his early days as an actor-writer-composer-director rolls down the road at a brisk, page-turning pace, but still leisurely enough to luxuriate in the fascinating adventures and entertaining characters he encounters along the way. With simple eloquence, wry perception, and engaging—often touching—honesty, he chronicles juggling ambitions and obligations, dreams and disappointments while trying to make his mark on the world and find meaning in his life. But it is more than a memoir of one talented man's personal journey; it is a paean to all those brave souls who are the backbone of show biz and daily plow through the trenches of a precarious profession, plying their trade often against impossible odds. I relished this ramble through Mr. Kimmel's past right down to the last word of the last page and, in the best theatrical tradition, was left wanting more. Fortunately, Mr. Kimmel has more—much more—and will hopefully regale us with a sequel in the near future.
—Charles Edward Pogue,
screenwriter of Dragonheart, DOA, & The Fly



Bruce Kimmel takes you into his confidence (and into his heart) as your first-person tour guide on the thrill ride of his acting career, with several of this planet's most ridiculous and unimaginable decades as backdrop for his story. His careening and caroming adventures move at a breathtaking pace and, as ever, Kimmel's endearing, self-effacing tone evokes Saroyan and Salinger, even as his book is populated with more familiar names than a fruitcake has raisins. Daft, deft, constantly touching and ultimately moving, our hero's effort to find his life, his love, and his "light" makes for a rare showbiz story that trades in tinsel and glitter for tenderness and hope.
—Rupert Holmes,
Tony and Edgar award-winning playwright and novelist
I love Jimmy Kimmel's book.Wait, what? This isn't Jimmy's? Oh. Oh, Bruce Kimmel. How can I not love a book by someone who has lived as long as I have and made peace with being called Bruce? Thank kimmel it's also a sweet, funny, honest, real book about a real person's trek through the unreal world of Hollywood.
—Bruce Vilanch,
writer/actor/ex-Hollywood Square


HARDCOVER, AUTOGRAPHED copies
Available Now for a limited time only!
Books ordered here come with a free bonus CD
of rare Kimmel tracks, only available at Kritzerland.com
(While supplies last)