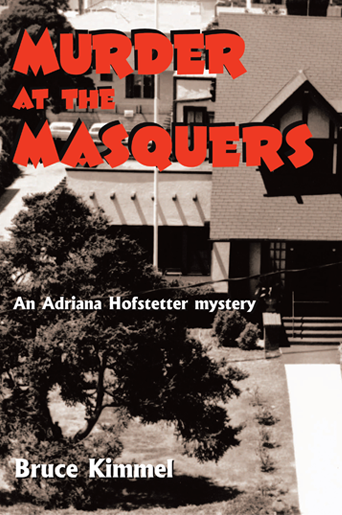 Adriana Hofstetter is back! She has just turned sixteen. To celebrate that occasion, she is writing a story for her journalism class on the unsolved 1966 murder of a highly-thought-of-but-vicious acting teacher. Said teacher is found quite dead after class one night, stabbed over sixty times. All of the nine suspects (all students) have airtight alibis, and the police at the time chalk it up to a random killing; case closed. But that was then, because after reading up on the case Adriana Hofstetter becomes convinced that one of them is the killer.
She begins a journey that leads her back to a different world and time. She methodically finds and meets the seven surviving suspects/students, as well as the teacher's widow. If she's right and one of them is the killer, she might just find herself in harm's way. Of course, her mother Margaret is back, listening to her beloved oldies, as are Adriana's best friend Billy Feldman and her cat Furball. And Detectives Ramirez and Coyne are back, too, as skeptical as ever. She still hates Facebook, doesn't want to know what Twitter is, and marches to the very loud beat of her own drummer.
A cook's tour of current and old Hollywood, Murder at the Masquers is funny, fast-paced, suspenseful, and a valentine to out-of-step teens. And, as usual, Adriana Hofstetter will not stop until she figures out who the killer is.
Bruce Kimmel has written ten other books—his acclaimed Kritzer trilogy (Benjamin Kritzer, Kritzerland, and Kritzer Time), Writer's Block, Rewind, How To Write A Dirty Book and Other Stories, and his other popular Adriana Hofstetter mystery series, Murder At Hollywood High, Murder At The Grove, and Murder At The Hollywood Historical Society. He has also written a memoir, There's Mel, There's Woody and There's You (My Life In the Slow Lane).

:::::::::::::::::::::::::::::::::::::::::::::::::::::::::::::::::::
Hooray! Kimmel's charmingly eccentric young sleuth Adriana Hofstetter is back for a new walking (and bus-riding) Hollywood murder tour. This time she's celebrating her sixteenth birthday by shaking the dust off of the decades-old unsolved homicide of a venomous acting coach. A funny, fast-paced, neatly-plotted whodunit.

— Dick Lochte,
Co-author (with Al Roker) of The Midnight Show Murders
To see the other Adriana Hofstetter mysteries, as well as other Bruce Kimmel books, click HERE.