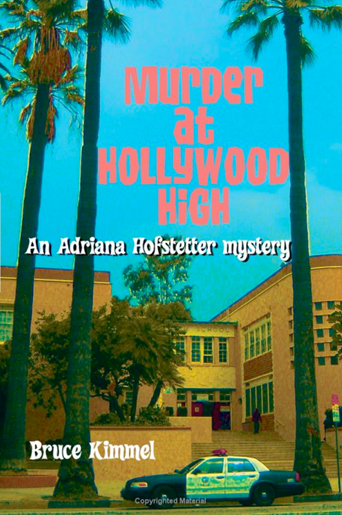 Teenager Adriana Hofstetter is quite possibly one of a kind. She hates all things "now"-including MySpace, cell phones, and anything trendy-and she has no use for partying, getting wasted or being stupid. She dresses in clothes from her favorite decades-the 40s, 50s, 60s, and 70s-much to the derision of her fellow students at Hollywood High, who think she is a joke. She's on her way to becoming the star of her journalism class. Her teachers adore her, just as much as her fellow students abhor her. She has one loyal and true friend, Billy Feldman, who is as much of an outsider as she is. She has a mother who listens to Pink Floyd, Cream, and Isaac Hayes at ear splitting levels, a peculiar cat named Furball, and an ancient, ineffectual computer that crashes if she happens to glance in its direction. Then, one day, someone from Hollywood High is found murdered. A suspect is arrested and charged. And Adriana Hofstetter finds herself forced to become a pint-sized amateur sleuth, who, in the guise of doing a story for the school newspaper, must put all her journalism lessons to use in order to solve a murder she knows the accused didn't commit. Murder at Hollywood High is a very funny, suspenseful mystery, replete with colorful Los Angeles locales, disbelieving detectives, suspects lurking around every locker, and a fifteen-year-old heroine who is off-the-wall, endearing and not to be messed with.

Reader reviews from Amazon.com : : : : : : : : : : : : : : : : : : : : : : : : : : : : : : :
"Are you tired of the new generation? Do you want cell phones and Ipods and Blackberries (the electronic kind) to go away? Well, writer Bruce Kimmel has created - of all things - a teen age girl sleuth who feels the same way.
Adrianna Hofstetter attends the titular high school. She is a product of her time, but she longs for another era. Her best friend is Billy, and when he is accused of a murder at HH, Adrianna goes into full Nancy Drew mode to clear him of the charge.
She uses everything at her disposal and uses 21st century detective work...well except for that pesky dial up. Adrianna lives with her single mother in a Los Angeles apartment. The environs are so well described, that you could probably find the building, or at least the street. Los Angeles of the 21st century is a character in the book, and you are taken on a Cook's Tour of the city as Adrianna follows her clues and sleuths her way to the real killer.
What a bunch of irritating, well-drawn, true to life suspects there are in "Murder at Hollywood High". And Adrianna feels about them mostly the way the reader will - if not more so. And of course, they don't understand a girl who loves black and white movies and dresses in clothes by decade. Adrianna also feels that fashion stopped in 1970, so you can imagine her closet. The book includes Adrianna's journal entries and maps of the crime scene.
The mystery is interesting, and the finale reminded me of the way Perry Mason or Owen Marshall used to wrap up their television shows. No matter who you think really did it, you won't get a yea or nay until the end. In fact, I figured out what but not who - until the final chapter.
Fine, fast read from author Kimmel who knows his onions and his MySpace. If you're looking for something to pass the time that isn't TELEVISION or a COMPUTER game....try a book. Try "Murder at Hollywood High", and pray for the new generation. Just remind yourself that the pictures they are posting all over the internet will be there to permanently embarrass them.
It couldn't happen to a nicer bunch of - people."
— J. Earles, Mooresville, IN
Reader reviews from Amazon.com : : : : : : : : : : : : : : : : : : : : : :

"With a quirky, appealing misfit of a protagonist, Bruce Kimmel has concocted a fun, fast read with nary a misstep. An ideal mix of character study, dark humor, and light banter, as our heroine sleuth digs into a mystery - with a very personal motive for uncovering the truth. The story unfolds with great economy, and I certainly didn't see that ending coming! Kimmel captures high school angst and the city of Los Angeles itself with great verisimilitude. I certainly hope that we shall see new adventures with Adriana Hofstetter charging ahead!"
— Singdaw, New York, NY
"Adriana Hofstetter, high school student and journalist-in-the making, is the heroine of what I hope will become a series of entertaining mysteries. It's a good read for both adults and teens, for whom Adriana's a good model: smart, loyal, persistent, marching to her own band, and as charming as the young lady who inspired the character.
The author introduces several quirky characters to aid his plucky heroine: her mother who likes to sing rock loudly, her best friend Billy, and two police detectives who think they know more than she does, and I hope they will all stay with the series. The other main character is the city of Los Angeles, a major character as well in Bruce Kimmel's wonderful Benjamin Kritzer novels, since its geography is essential to the plot as Adriana walks and busses - she's too young to drive - from crime scene to school to students' homes to solve a crime and save a friend." — Larry Moore
"An odd duckling in Hollywood High, Adriana despises her classmates and they despise her right back. She wears styles from decades past, along with the the appropriate hair and makeup... no wonder all the cookie cutter My Space addicts can't deal with her, she's an actual thinking individual!
Adriana is the only child of a Rock'n'Roll loving single mom (widowed); and unlike many of her credit card wielding, BMW driving classmates, living a modest life style, including dial up (GASP!) internet service and meatloaf four times a week (not counting the sandwiches for lunch) Adriana would find school unbearable if it wasn't for her best friend, Billy, (who is openly gay, much to the disgust of the high school jocks) and her supportive journalism teacher. When a popular classmate is murdered, Adriana's life spins out of control and she takes action to make things right. I couldn't put this down until I reached the end, and I most probably would have started it over again if my 14 year old daughter hadn't ripped it out of my hands so she could read it! Her take on the book? 'When the next one in the series going to be available?'"
— D. Mann, New York, NY