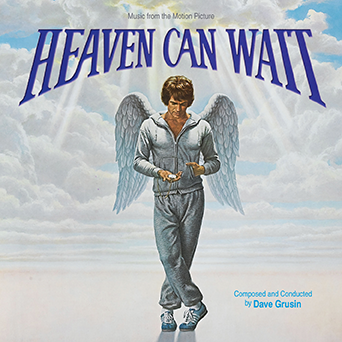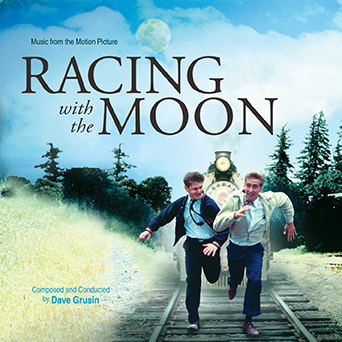 Kritzerland is proud to present a new limited edition release – two world premiere scores on one CD:

HEAVEN CAN WAIT and RACING WITH THE MOON

Composed and Conducted by Dave Grusin

Heaven Can Wait, the 1978 remake of Here Comes Mr. Jordan, received glowing reviews and was a huge hit for Paramount. Warren Beatty, in addition to starring, co-directed (with Buck Henry), and co-wrote the screenplay (with Elaine May). An absolutely first-rate, perfect cast was assembled – in addition to Beatty and Buck Henry, the film also starred Julie Christie, Charles Grodin, Dyan Cannon, Jack Warden, Joseph Maher, and James Mason as Mr. Jordan.

At Academy Awards time, Heaven Can Wait received nine Oscar nominations, including Best Picture, Best Writing, Screenplay Based on Material from Another Medium, Best Director, Best Cinematography, Best Actor (Beatty), Best Actor in a Supporting Role (Warden), Best Actress in a Supporting Role (Cannon), Best Art Direction-Set Decoration, and a Best Music, Original Score nomination for the film's composer, Dave Grusin.

One of the key elements of the film that makes it work so well is Grusin's score. Composers and directors have to decide how much music any film should have. In the case of Heaven Can Wait, Grusin wrote a short score – Beatty clearly didn't want the film loaded with music from start to finish. In the end, there was only about fifteen minutes of original Grusin music used, but what music it is! It's a testament to what Grusin wrote that it seems like there's much more music in the film than there actually is. His main theme, the jaunty and captivating "Heaven Walk," is one of Grusin's most memorable melodies – it's used throughout and every time it appears it's like having an old friend say hello. And then there is the gorgeous, simple, but hugely touching music for the romance of the Beatty and Christie characters.

This is the world premiere release for Heaven Can Wait. In addition to what ended up in the film, we present the unused cues as well as some alternates as bonus tracks. This release was newly mixed from the original 16-track tapes housed in the Paramount vaults.

Six years later, Paramount made Racing With the Moon, a film directed by actor Richard Benjamin, who'd had a huge critical and audience success two years earlier with his first film, My Favorite Year. The cast featured three actors who had made their screen debuts not too long before this film, and who were all on the cusp of stardom – Sean Penn, Elizabeth McGovern and Nicholas Cage, each of whom gives an incredibly appealing performance.

As with Heaven Can Wait, the score was by Dave Grusin and it's a beauty. Its tender themes glow with an incandescent beauty – one is period-flavored, while the other is more timeless in feel. Those themes alternate throughout the score, along with an infectious "Moon Boogie" and "Mendocino Station." In addition to Grusin's stunning work, there are several big-band 1940s source music cues that are very much a part of the fabric of the film; those cues were arranged and conducted by the amazing Billy May. This is the score's world premiere release, and it includes the complete Grusin score, along with all the big band source music cues, all taken from the original stereo session tapes housed in the Paramount vaults.

Heaven Can Wait and Racing With the Moon – two never-before-released Dave Grusin scores. Heaven indeed.

Heaven Can Wait/Racing With the Moon is limited to 1000 copies only and is priced at $19.98, plus shipping.

CDs will ship the last week of November, but preorders placed at Kritzerland usually ship one to five weeks early (we've been averaging four weeks).