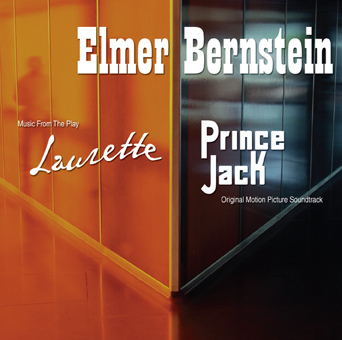 Kritzerland is proud to offer a limited edition CD – two rare scores from Elmer Bernstein.
LAURETTE Music from the play
Produced in 1960, Laurette starred Judy Holliday, was directed by Jose Quintero, and produced by Alan Pakula. It was a bio-play based on the life of the legendary actress Laurette Taylor. Mr. Bernstein provided a background score for the show, which unfortunately closed out of town before getting to Broadway. The music is pure Elmer and is an interesting transitional score from his bigger and jazzier scores of that era to the type of score he would shortly provide for To Kill A Mockingbird. The scoring is beautiful, delicate, and filled with wonderful melodies.
PRINCE JACK Original Soundtrack Recording
Prince Jack was a low-budget film written and directed by Bert Lovitt (adapted from his play), a series of vignettes about the presidency of John F. Kennedy, starring Dana Andrews, Kenneth Mars, Jim Backus, Theodore Bikel, Lloyd Nolan, Robert Guillaume, and others. Originally, there was little budget for any music, and source and library music was going to be used. However, when the film came in under budget, the leftover money was used to hire Elmer Bernstein to provide a small amount of original scoring. Even though quite brief and scored for a smaller ensemble of about twenty musicians, the score has all the hallmarks of its composer – wonderful melodies, and terrific dramatic writing. It's very much in the style of his 1980s films, including the use of the Ondes Martinot.
Mastered from the best available sources, there are some sound anomalies, but every effort has been made to minimize any problems.
This release is limited to 1000 copies only.