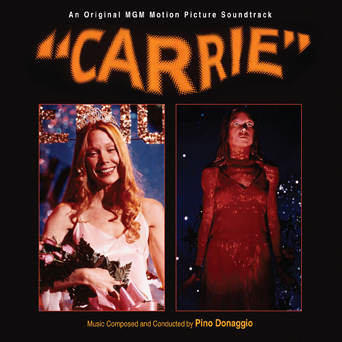 IF YOU'VE GOT A TASTE FOR TERROR… TAKE CARRIE TO THE PROM
Kritzerland is proud to present a very special limited edition soundtrack CD – an Encore Edition for:
Carrie
Music Composed and Conducted by Pino Donaggio
In 1976, director Brian De Palma had already established a reputation as a cult director of such films as Greetings, Hi, Mom, and more importantly, Sisters, Phantom of the Paradise, and Obsession. But it was his film of Stephen King's classic, best-selling first novel, Carrie, that would catapult him into major director status. Many directors have tackled Stephen King, including King himself, all to varying degrees of success, but Carrie is the film that leads the pack.
De Palma got everything right – the casting (an amazing group of actors, including Sissy Spacek, Piper Laurie, Amy Irving, William Katt, John Travolta, Nancy Allen, P.J. Soles, and Betty Buckley), the adaptation by Lawrence D. Cohen, the art direction (Jack Fisk and Bill Kenney), camerawork (Mario Tosi), editing (Paul Hirsch) – everything just came together magically and perfectly. The film works so well because there is not only great horror (as to be expected), but also a large helping of emotion and pathos (thanks to Sissy Spacek's affecting and brilliant performance as Carrie). There is a depth to the characterizations that elevate the film way beyond a simple scary movie. The film also has a sly sense of humor and it's just fun in a way horror films seldom are – thrills, chills, laughs, and one of the most amazing jump-out-of-your seat scares in the history of cinema.
Horror films are rarely nominated for Academy Awards, but Carrie was one of the exceptions with Sissy Spacek getting a Best Actress nod and Piper Laurie getting one for Best Supporting Actress. Over the years, the film has never lost on iota of its popularity, thanks to numerous releases on every home video format, most recently on blu-ray.
Of all the decisions De Palma made, one of the most important was choosing Pino Donaggio as composer. De Palma had used Bernard Herrmann on two of his films – Sisters and Obsession, but Herrmann had passed away in 1975. In 1976, Donaggio only had one major film to his credit, but his score to that film was masterful – Nicholas Roeg's Don't Look Now. However De Palma came to choose Donaggio, it was a perfect marriage of composer and film. Donaggio's score hits all the right notes – he brings out every emotion and all the subtext, with great suspense and horror music, plaintive and yearning music for the character of Carrie, two songs for the prom sequence (with lyrics by Merritt Malloy) that help make that sequence so magical and memorable, and light and infectious music for the calisthenics sequence and the scene at the tux shop. It is, in fact, a perfect score, a masterpiece of film scoring, with unforgettable themes that capture every nuance of the film.
United Artists released the soundtrack album on LP. It was an odd presentation in that almost all of the music was from the film's second half, save for the main title sequence (which was repeated verbatim at the end of the album). The album ran thirty-five minutes. That LP was released twice on CD – first by Ryko (with dialogue snippets included to pad out the running time), and then by Varese Sarabande (with the dialogue snippets gone). Ryko used the album master, and the Varese was a clone of the Ryko release (the pop songs used in the film were not available to them or to us).
For this very special Encore Edition, we are pleased to present what was CD 1 of our previous 2-CD release (the second CD was simply the third release of the LP tracks and we are not including that disc in this 1-CD release) – the complete score to Carrie – every note of great music, in film order, remixed from the original sixteen track session tapes housed in the MGM vaults. We also found two instrumentals of the songs, which we've included as bonus tracks.
This release is limited to 1000 copies only. The price is $19.98, plus shipping.
CD will ship the second week of February – however, preorders placed directly through Kritzerland usually ship one to five weeks earlier (we've been averaging four weeks early).