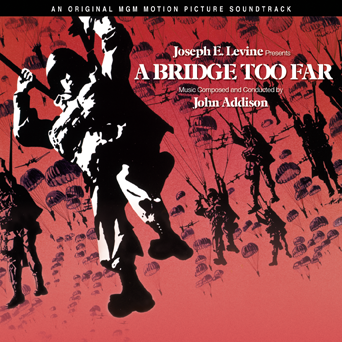 "OUT OF THE SKY COMES THE SCREEN'S MOST INCREDIBLE SPECTACLE OF MEN AND WAR"
Kritzerland is proud to present a limited edition soundtrack release:
A Bridge Too Far
Music Composed and Conducted by John Addison
A Bridge Too Far, Richard Attenborough's 1977 epic 22 million dollar film adapted from the 1974 book by Cornelius Ryan, tells the story of Operation Market Garden, the failed Allied attempt to break through German lines and take several bridges at a time when the Germans were on the retreat. With a literate script by William Goldman (Butch Cassidy and The Sundance Kid, All The President's Men, Marathon Man, The Princess Bride, Magic), camerawork by Geoffrey Unsworth, and an amazing cast of stars, including Dirk Bogarde, James Caan, Laurence Olivier, Ryan O'Neal, Robert Redford, Sean Connery, Michael Caine, Edward Fox, Anthony Hopkins, Gene Hackman, Hardy Kruger, Maximilian Schell, and Liv Ullman, A Bridge Too Far was and is a compelling and exciting film that holds up beautifully after all these years.
For such a huge and impressive production, A Bridge Too Far received no Academy Award nominations whatsoever (it was the year of Annie Hall), but did receive several BAFTA nominations including Best Film and Best Director – it took home several wins – co-star Edward Fox, cameraman Geoffrey Unsworth, Best Sound, and one for the film's musical score by John Addison.
By the time of A Bridge Too Far, John Addison had written several classic film scores (Tom Jones, The Loved One, Sleuth, Torn Curtain, The Charge of the Light Brigade, Start the Revolution Without Me, The Seven-Percent Solution), and had been nominated twice for Academy Awards, winning for Tom Jones. When Addison found out that Richard Attenborough was going to make A Bridge Too Far, he called Attenborough and said he desperately wanted to do the music for the film, as he had a very personal connection to it – as a young soldier he'd served with the XXX Corps, the tank division that was at the heart of Operation Market Garden. And Addison delivered the goods, composing one of his greatest scores, with a rousing, tuneful march at its center, stirring action music, and some stunning dramatic cues.
Richard Attenborough said this about Addison and his score: "I shall never forget the occasion when, at Joe Levine's invitation, he saw the actual film. At the end he was obviously greatly moved. 'One works because one must,' he said, 'but sometimes the work is what you want with all your being and this, for me, is one of those occasions. If I can't write something wonderful for this film, then I should give up.' When Joe Levine and I sat in the small music room of John's Los Angeles home and listened to him playing the score on his piano for the first time, we were both on the verge of tears. He had, indeed, written some truly wonderful music."
A Bridge Too Far was originally released on a United Artists LP. In 1999, Ryko issued it on CD, which subsequently went out of print – it has been out of print for years now and is a much-requested title, which is why we decided to reissue it. The original LP masters were used for the CD, and it's been completely remastered it for this CD release.
This release is limited to 1000 copies only. The price is $19.98 plus shipping.
CD will ship by the third week of November – however, preorders placed directly through Kritzerland usually ship one to five weeks earlier (we've been averaging four weeks early).