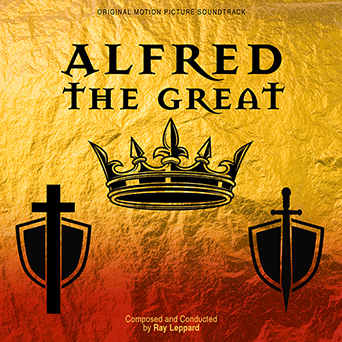 Kritzerland is proud to present a CD soundtrack release:
ALFRED THE GREAT
Composed and Conducted by Ray Leppard
HE GAINED A THRONE AND SAVED A KINGDOM!
Alfred the Great was first announced as a film back in 1964 for MGM/UK, with Bernard Smith (How the West Was Won) producing. However, it would take another five years for the film to reach movie screens. David Hemmings was given the title role and an impressive cast was assembled, including Michael York, Colin Blakely, Ian McKellan, Julian Glover, Vivien Merchant, and Prunella Ransome. The unusual choice of director was Clive Donner, who'd never made an epic – in fact, his biggest hit was the madcap comedy, What's New, Pussycat. Filming began in Galway, Ireland in 1968. The budget was a then-substantial six million dollars. It was a long and grueling schedule, and when the film was released, it promptly bombed at the box-office and bombed in a huge way with both public and critics. While in the UK it had some exclusive playdates, in the US it was tossed out on a double bill with A Place for Lovers, opening in early December. It made under $200,000 the one week it played, was pulled from every single theater, and then it pretty much disappeared.
Of course, watching it today, it certainly doesn't seem like it quite deserved its fate, although it's not a great movie. It's beautifully photographed by Alex Thomson, who'd go on to photograph Excalibur for John Boorman, and the cast is quite good. But what really stands out all these years later is the superb, atmospheric score by Ray Leppard. Known mostly as a conductor, Leppard had previously scored Peter Brook's film of Lord of the Flies – that score ran about three minutes and had no real original music. Then in 1969, he did Tony Richardson's Laughter in the Dark, for which he was conductor and music arranger. In fact, Alfred the Great was and is his only original film score. His only real film credit after that didn't come until 1984 with The Hotel New Hampshire, which was yet another conducting and arranging job. He was mostly known and credited as Raymond Leppard, but for whatever reasons, on Alfred the Great it's Ray Leppard.
The score is majestic, haunting, regal, and with some great action cues. It's a lush, beautiful score. It's been lovingly mastered by Chris Malone. The CD contains the original album program plus two bonus tracks.
ALFRED THE GREAT is limited to 500 copies only and priced at $19.98, plus shipping. This is a PRE-ORDER – CDs will ship by the by the second week of February, but as always we strive to get it shipped prior to that. However, lately, both printing and pressing plants has been slower than usual due to the pandemic.
Also note that your PayPal receipt is the only receipt you get – we don't send out confirmations beyond that.