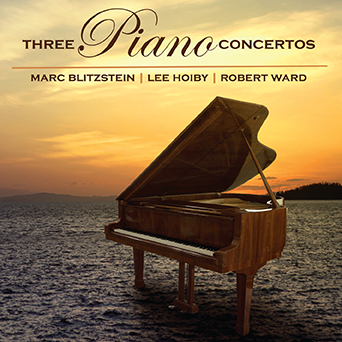 Kritzerland is proud to present another classical release, three incredibly beautiful works on one CD:

THREE PIANO CONCERTOS

Marc Blitzstein, Lee Hoiby, Robert Ward

It's surprising how many wonderful American piano concertos there are, and how woefully unknown and underperformed they are. And the three concertos presented on this CD are three of the best and most interesting, for differing reasons. Two of them, the Robert Ward and Lee Hoiby are loaded with stunningly beautiful melodies, real tunes, and that real American sound. The third, by Marc Blitzstein, is a little different but equally wonderful in its own way.

The Robert Ward Concerto for Piano and Orchestra is filled with gorgeous melodies and played stunningly by the pianist who debuted the work, Margaret Mitchell, with William Strickland conducting the Stuttgart Radio Orchestra. It was commissioned by the Powder River Foundation for pianist Margaret Mitchell. Mr. Ward's music is instantly accessible, and the piano concerto is one of his finest works. The concerto was featured on the very first Bay Cities release back in 1989 – it has been newly remastered for this release and sounds more amazing than ever.

The first performance of Lee Hoiby's Concerto for Piano and Orchestra featured John Atkins, the wonderful soloist on this recording. First issued on CD back in 1989, the third album released on Bay Cities. The Lee Hoiby concerto has beautiful and haunting themes throughout, beautifully orchestrated and sounding like a distant cousin of Rachmaninov, but with a distinctly American quality. It has also been newly remastered for this release.

And finally we have the oldest concerto of the three – Marc Blitzstein's Piano Concerto, written in 1931 when he was only twenty-five. The piece was not premiered until 1986, when the Brooklyn Philharmonic finally brought it to the public. Prior to that it had been heard only twice and both times in a two-piano reduction. And so it remained unperformed while Blitzstein found success in musical theatre and opera. The concerto is a unique and original work, one filled with interesting ideas and unusual touches but one that is still extremely accessible and attractive. Released on CD by CRI, this has also been newly and lovingly remastered with much improved sound.

So, here we have three piano concertos, three American piano concertos, and three completely addictive piano concertos brimming with invention and beauty, in great and definitive performances.

Three Piano Concertos is limited to 500 copies only and priced at $19.98, plus shipping. CDs will ship by the first week of January, but never fear, we've actually been averaging three to five weeks early in terms of shipping ahead of the official ship date and we'll definitely have it to you before Christmas. To place an order, see the cover, or hear audio samples, just visit www.kritzerland.com.

ATTENTION INDIEGOGO CONTRIBUTORS: IF YOU WANT TO RECEIVE THIS RELEASE YOU MUST OPT-IN BY SENDING US AN E-MAIL – SEND TO kritzerland@gmail.com. IF YOU DO NOT WISH TO RECEIVE IT, YOU DON"T NEED TO DO ANYTHING. IF YOU ARE NOT AN INDIEGOGO CONTRIBUTOR, ORDER AS YOU NORMALLY WOULD. THANK YOU.
(Click on cover for enlarged version)
• Click on titles below to hear a song sample:

ROBERT WARD
Concerto for Piano and Orchestra
• Adagio – Allegro
• Grave – doppio movimento
Stuttgart Radio Orchestra
William Strickland, conductor
Margaret Mitchell, piano

LEE HOIBY
Concerto for Piano and Orchestra
• Allegro
• Lento
Allegro vivo
Polish National Radio Orchestra
Jan Krenz, conductor
John Atkins, piano

MARC BLITZSTEIN
Piano Concerto
• Moderato molto
• Largo assai
Adagio ma non troppo
The Brooklyn Philharmonic
Lukas Foss, conductor
Michael Barrett, piano